This classic links golf tour through St. Andrews and the Highlands should be on any golfer's bucket list. From the Old Course to Castle Stuart, here's a re-cap from a group that just returned from a great golf trip to Scotland.
"This was the first trip to Scotland for 3 or our 4 golfers, but certainly won't be the last. It was a fantastic experience from start to finish. We were greeted at the Glasgow airport by Roddy, our private driver and concierge for the next 7 days. Roddy made the trip! He drove us everywhere we needed to be and seemed to know every nook and cranny in Scotland. He helped us pick restaurants and local pubs, arranged whisky tastings and castle tours, and rolled out a new Scottish joke roughly every 5 minutes.
We stayed at the Old Course Hotel in St. Andrews for most of our trip, and we will definitely be returning there for our next one. This is a 5-star hotel that lives up to its rating in every way with large modern rooms and incredible service. It sits adjacent to the famous Road Hole (#17) on the Old Course, with stunning views. We ended nearly every day with a glass or two of Whisky at the Road Hole bar overlooking its namesake hole and the town of St. Andrews
Our first round of golf was at the Crail Balcomie course.  It is a classic links course with a view of the North Sea from every hole, and it is the 7th oldest Golf Club in the world.  It's also a little more forgiving than the other courses we played, which makes it a nice way to start the trip.  We had our first of many orders of fish and chips at the Crail clubhouse with great views of the course and the sea.  If you go, be sure to meet David Roy, the Managing Secretary of the Crail Golfing Society, and a wealth of knowledge about the course and its history.  Click here to see what he has to see what he has to say about Crail.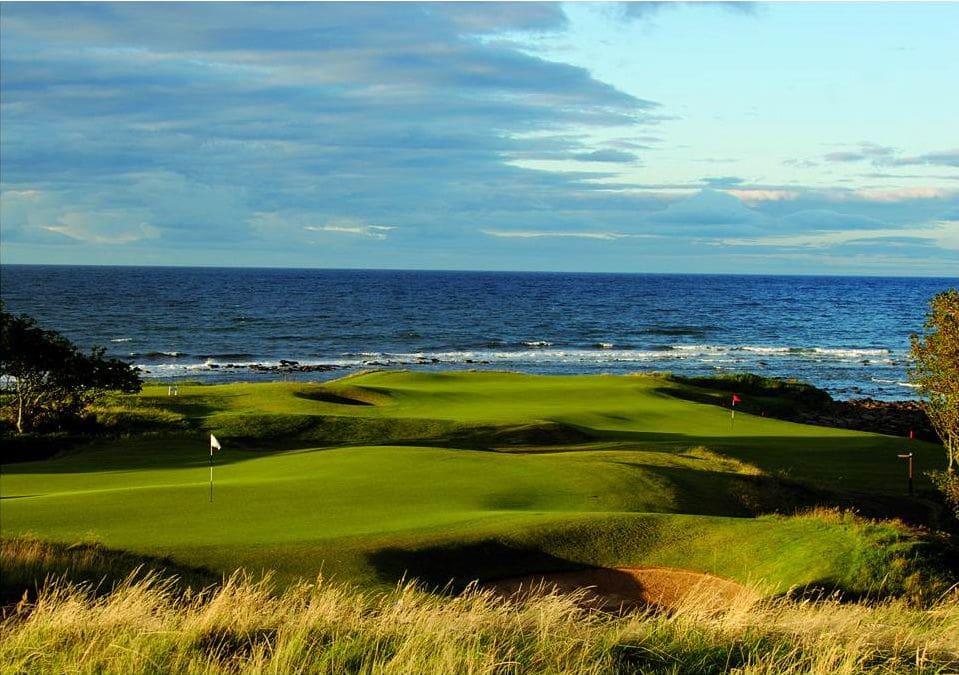 Next, we played Kingsbarns, about 6 miles from St. Andrews. Not quite 20 years old, this course is a masterpiece and one of the most breathtaking ever developed. It has become one of the most popular courses in Scotland for good reason and is an excellent modern links compliment to the much older classic courses in St. Andrews. After lunch and pints at another spectacular clubhouse, we stopped by the Kingsbarns Distillery next door for a taste of Whisky.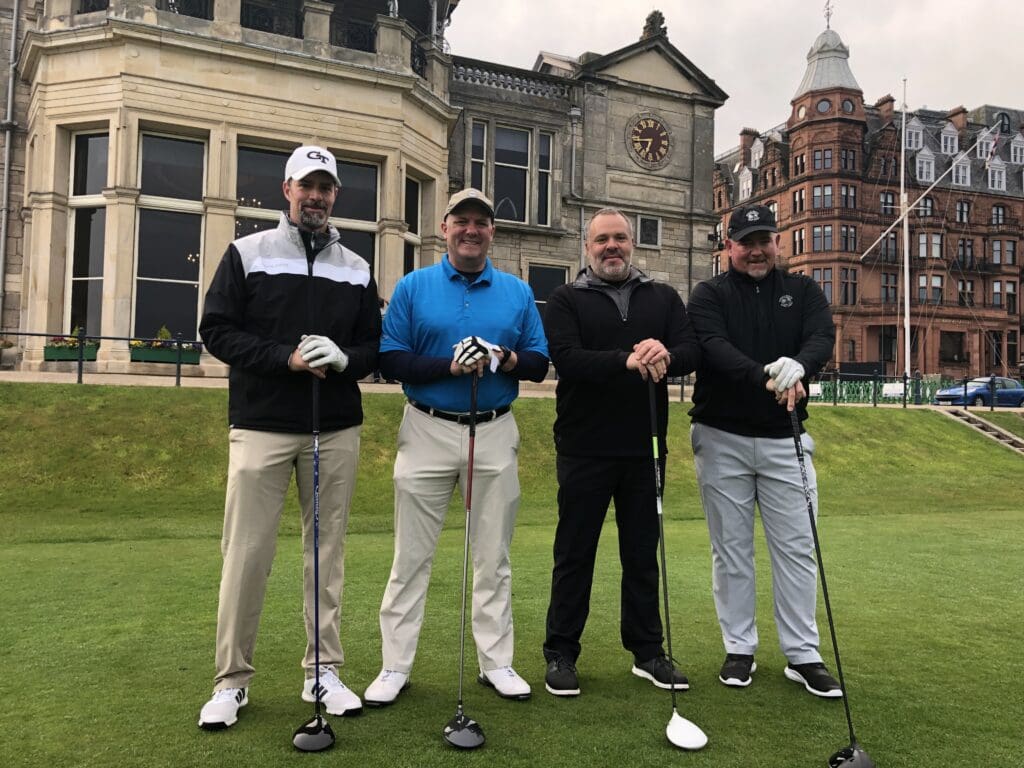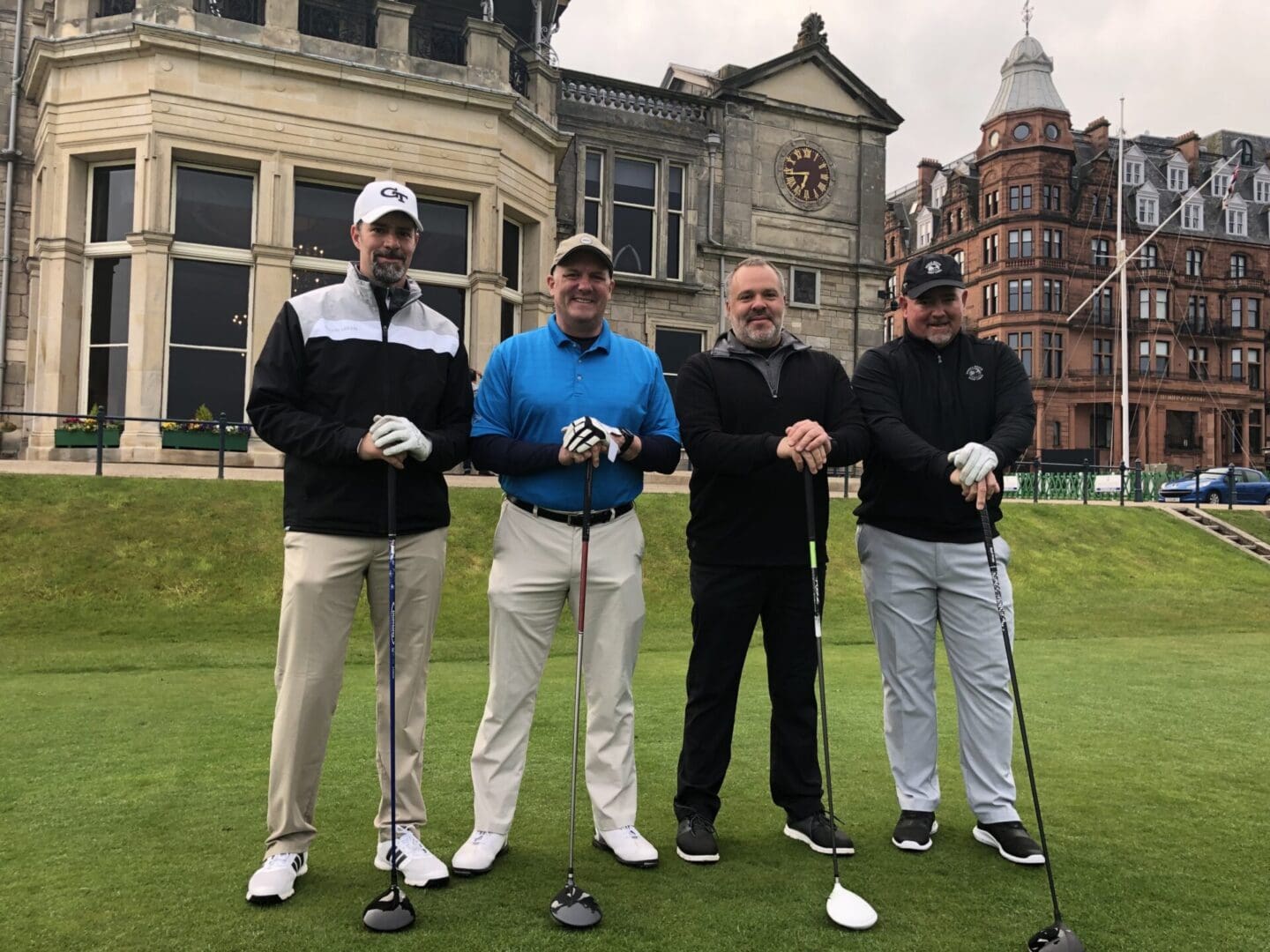 We played the Old Course at St. Andrews on the third day. We were all a little nervous on the first tee of the "Home of Golf", but settled in and enjoyed some of our better scoring of the week on the back nine. I still get chills thinking about the walk on #18 over the Swilken bridge. I can't wait to see Tiger win his 4th British Open there in 2021! We were so pumped after the Old Course that we played an unscheduled 2nd round at the Jubilee course that afternoon. I didn't fare so well at Jubilee – not sure if it's just harder, or if it had to do with the 3 pints of Guinness at lunch.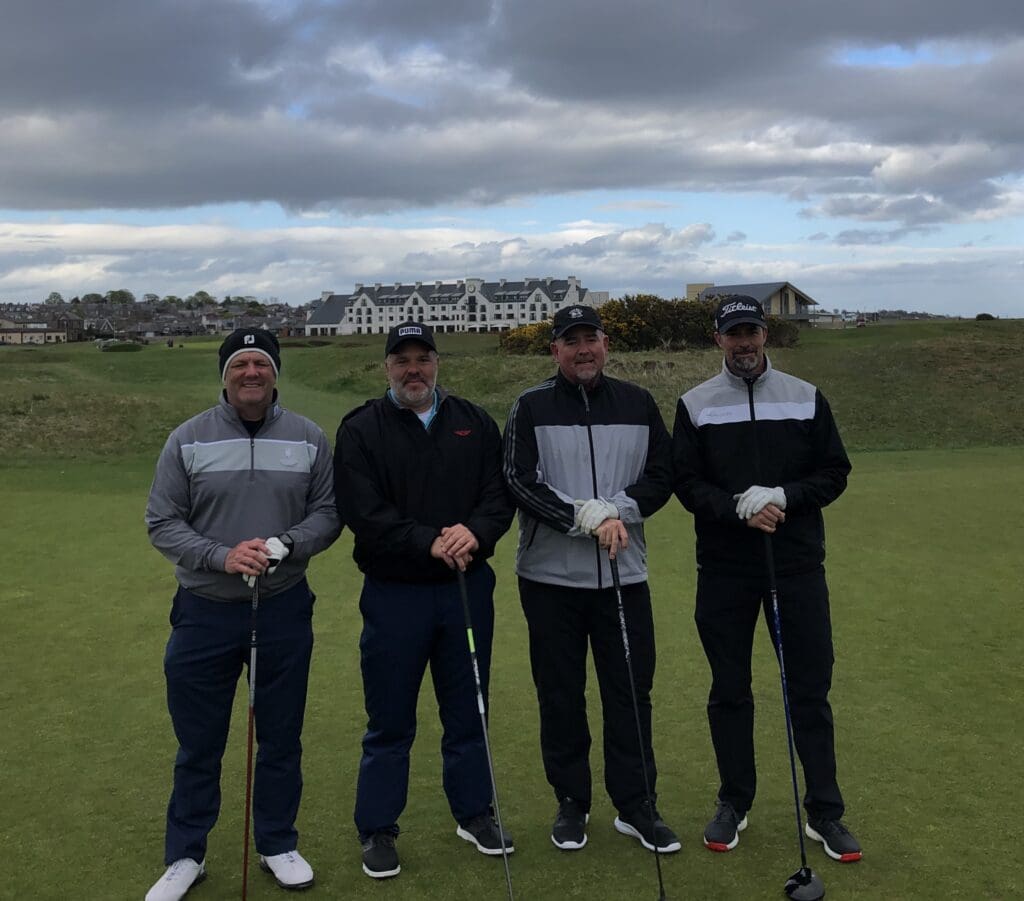 Day 4, we were brought back down to earth at Carnoustie. Our weather had been fantastic up until this point, but the difficulty of Carnoustie was made even harder with 20 – 30 mph winds. By far the hardest course we played, I landed in 15 of the 112 sand traps, and didn't always get over the 6 foot walls on the first try.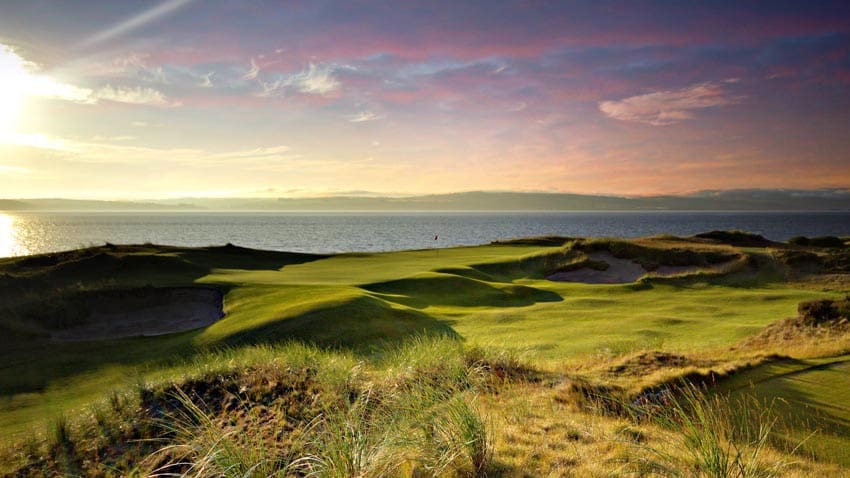 Our final round and most memorable round was at Castle Stuart just outside of Inverness. This course is only 10 years old, and has already hosted the Scottish Open 4 times, including Phil Michelson's exciting victory in 2013 (check out his famous flip shot on #18). Simply put, this course is spectacular! The views and topography are the best that we played in my opinion.
On our last night, we had a nice celebratory dinner at Brown's in the heart of Glasgow with Stewart Smith, PGA, the owner of the coach company and UK partner of Tom's Golf Tours. Then Roddy took us to his local pub for some great local music, and way too many pints. Good thing we had long flights the next day!
As our trip ended, we found ourselves already planning the next one, based in St. Andrews again at the Old Course hotel, playing several of the same courses and adding a couple of days in Ayrshire to hit Royal Troon and Turnberry. Can't wait!"