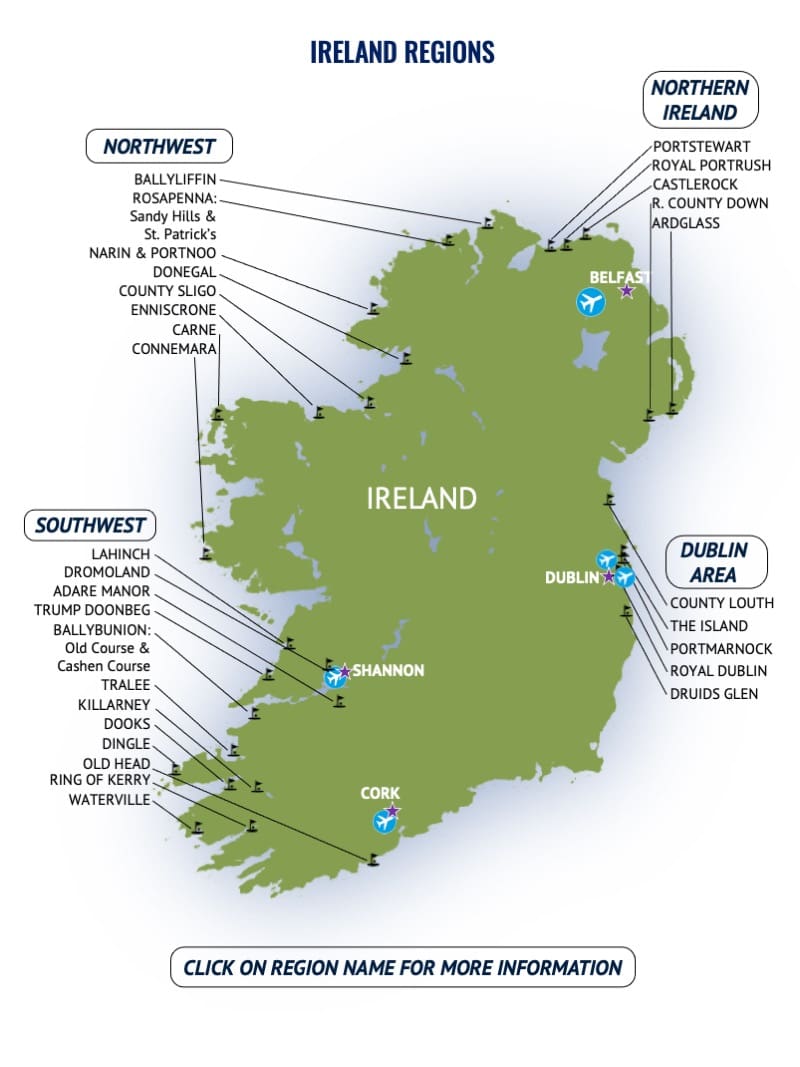 Northwest Ireland is home to hidden gems that are some of the highest ranked courses in the world.  If you've played the greats in the Southwest and Northern Ireland, venture to the Northwest to play Ballyliffin, Sligo, Donegal, Carne, and Rosapenna, and you'll wonder why you didn't come here first.

Northern Ireland is home to Royal Portrush, site of the 2019 British Open and Royal County Down, the #1 ranked course in the World. There are plenty of other great courses and things to see to round out your trip to this spectacular location.

The Dublin Area can be a destination for the week or a stop for a round or two at the beginning or end of your trip.  Portmarnock, Royal Dublin, and the Island are some of the great courses in the area.  Be sure to take in all the great sights of Dublin while you're there.

Southwest Ireland is the place to go if you want to play several rounds of world class links golf without moving around a whole lot. Groups typically stay in Killarney and use our private coach service to play a number of courses within the area, and sometimes couple it with a few nights at another location a little further away.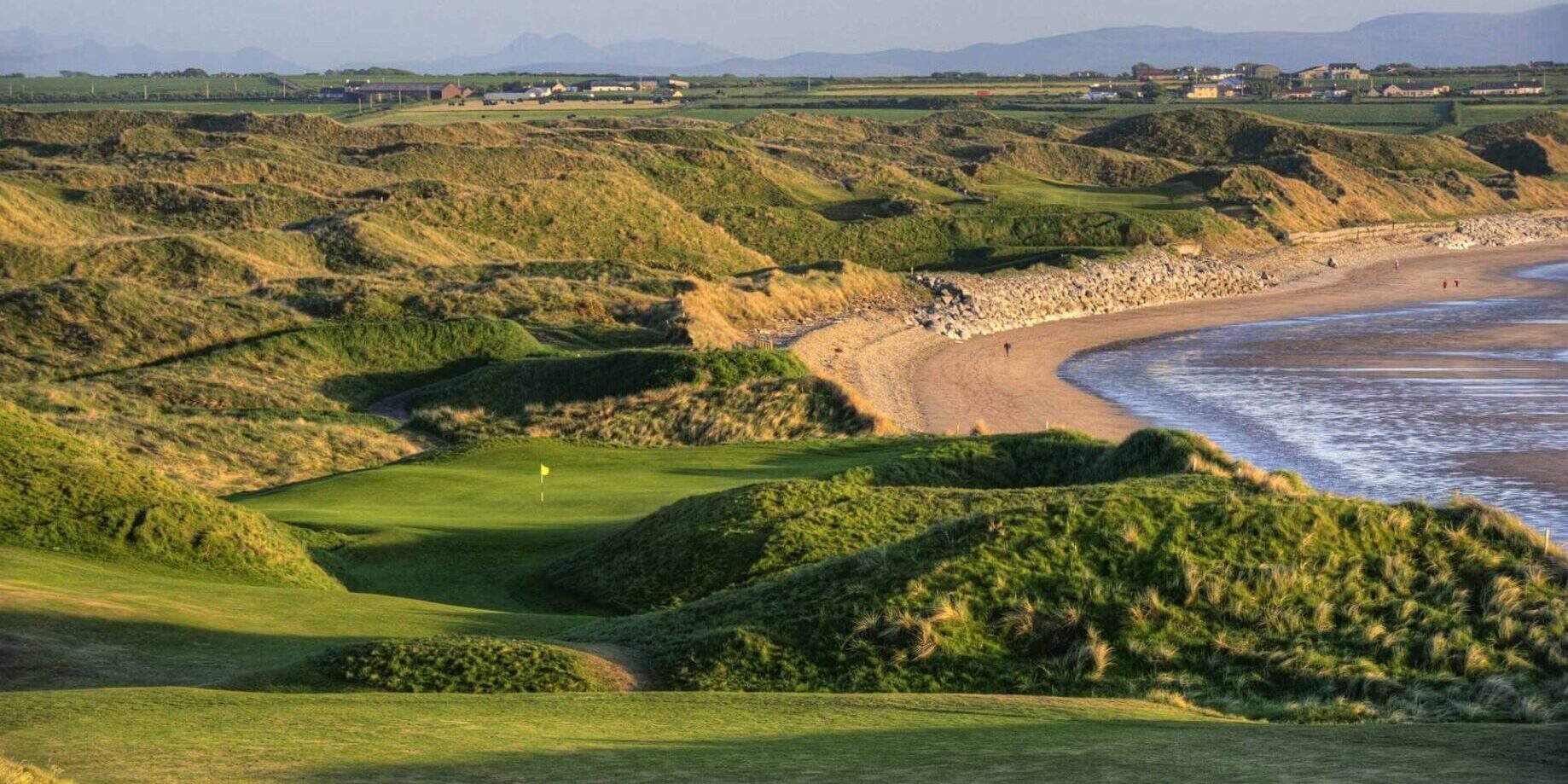 Founded: 1893
Designer: Tom Simpson
Championship Length: 6,802 yards
PAR: 71
Type: Links
The very name Ballybunion Golf Club, strikes a chord with golfing enthusiasts around the globe. Rated one of the ten best golf courses in the world, standing on the first tee at Ballybunion is every bit as awe inspiring as one could imagine in many respects, it's like standing on the first at the Old Course in St. Andrews. This is an experience long since yearned for don't duff it, don't slice it, don't hook it and whatever you do, don't put it into the graveyard!
Consistently rated as one of the world's greatest golf courses, the Old Course offers the ultimate links golfing challenge. Difficult to play in the wind but always rewarding not least because of the scenery.
Website: www.ballybuniongolfclub.ie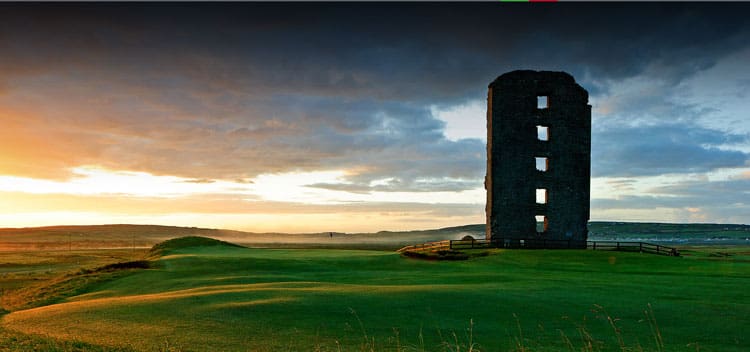 Founded: 1892
Designer: Old Tom Morris, Alister MacKenzie, Martin Hawtree, Donald Steel, Tom MacKenzie, Martin Ebert
Championship Length: 6,950 yards
PAR: 72
Type: Links
One of the oldest golf clubs in Ireland, Lahinch Golf Club is also one of the most respected links courses in the world. Set right on the Atlantic coastline, Lahinch is exposed to the ocean through all her moods and has been molded and shaped over the centuries by nature's harsh elements and an occasional touch of human genius. Lahinch, with its towering sand dunes, undulating fairways, rolling greens and fair share of blind shots, is the perfect natural golfing terrain a true links in the traditional meaning of the word.
Website: www.lahinchgolf.com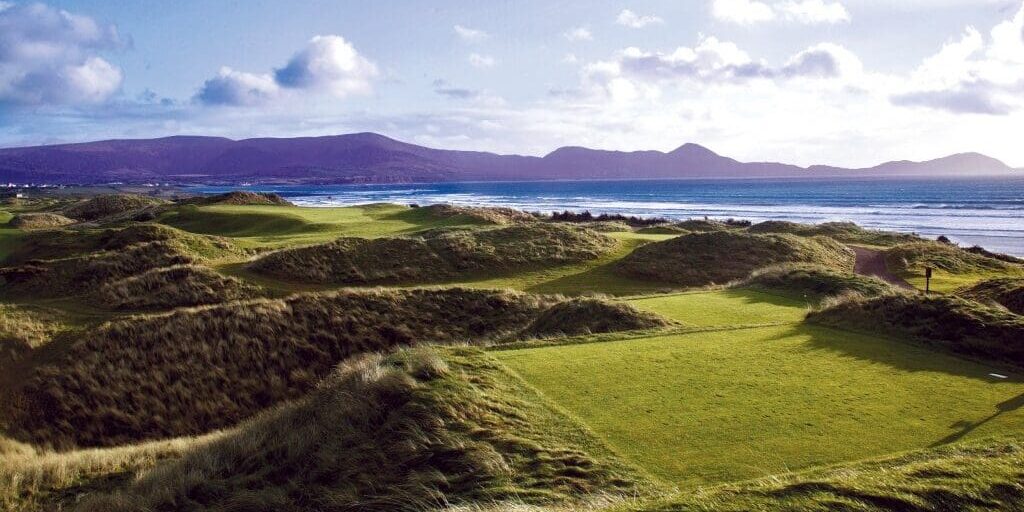 Founded: 1889
Designer: Eddie Hackett, John A. Mulcahy, Tom Fazio
Championship Length: 7,378 yards
PAR: 72
Type: Links
Waterville Golf Links in Kerry is one of the finest links golf courses in the world, never mind Ireland. Located on the Ring of Kerry, the surrounding scenery and quality of golf holes is breathtaking to say the least. The Waterville area and Ballinskelligs Bay also play an important role in the mythology and history of ancient Ireland. The granddaughter of Noah (of Ark fame) is reported to have landed in Ballinskelligs Bay, while the last of the mythical invaders, the Milesians, settled here in 1700 BC, leaving behind many archeological reminders. These rich legends combine with a serene location to form a mystical aura that visitors to Waterville can sense to this day.
Website: www.watervillegolflinks.ie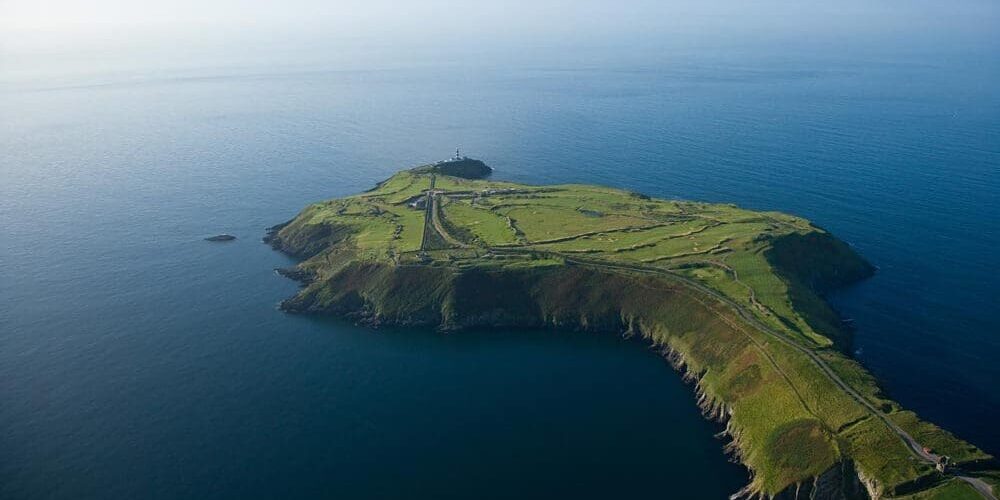 Founded: 1997
Designer: J. Carr, R. Kirby, E. Hackett, P. Merrigan
Championship Length: 7,200 yards
PAR: 72
Type: Links
Designed by a combination of Ireland's golfing heroes and design experts, the Old Head Golf Links is quite simply one of the most remarkable developments ever conceived in the history of golf; an Atlantic promontory that will never be rivaled in terms of drama and beauty. The course rises hundreds of feet above dramatic cliffs, surrounded by the Atlantic Ocean on all sides and commanding the most spectacular views from almost every part
Website: www.oldhead.com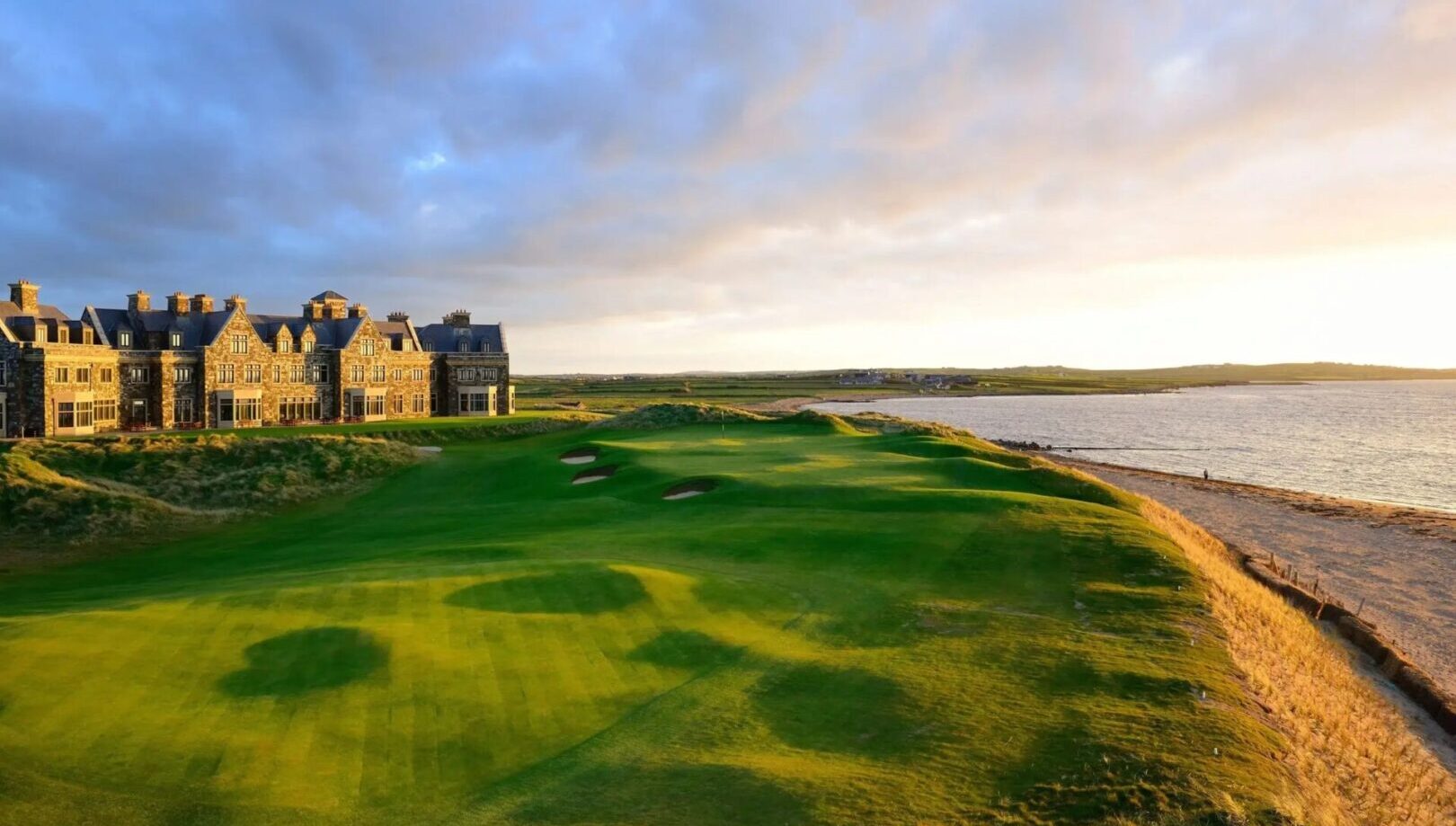 Founded: 2002
Designer: Greg Norman, Matthew Dusenberry, Martin Hawtree
Championship Length: 7,026 yards
PAR: 72
Type: Links
Opened for limited play in the summer of 2001, Doonbeg Golf Links opened for general play in 2002 and has already taken its place among the great courses of the Irish southwest. Within the parish of Doonbeg in County Clare, the links land that remains untouched by time sits astride a rugged piece of Atlantic coastline and will soon rank with Ballybunion and Lahinch as one of the finest golf courses in Ireland.
Website: www.doonbeglodge.com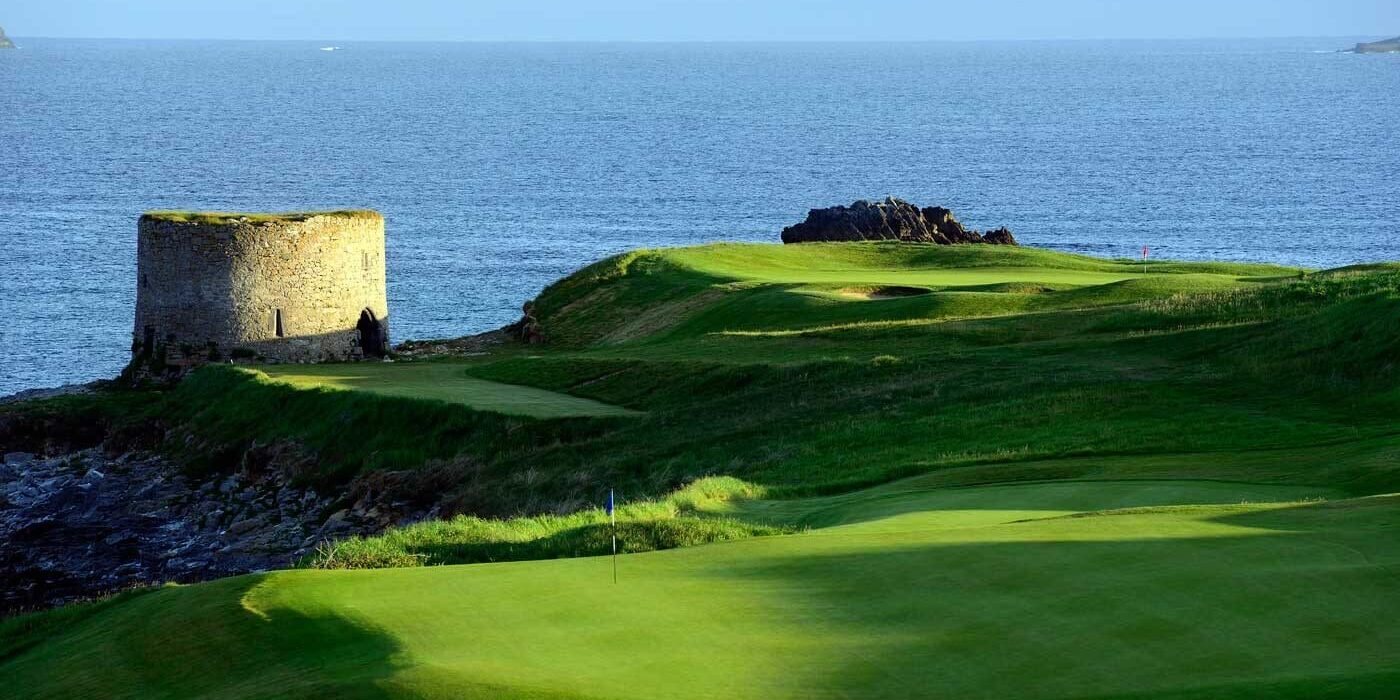 Founded: 1984
Designer: Arnold Palmer, Ed Seay, Donald Steel, Tom MacKenzie
Championship Length: 6,991
PAR: 72
Type: Links
Representing the first European design of Arnold Palmer, Tralee Golf Club in southwestern Ireland is one of the most spectacularly beautiful golf courses you will ever encounter. And while beauty often masks certain deficiencies in a golf course, that is certainly not the case with Tralee. Having completed his masterpiece, Palmer commented: "I have never come across a piece of land so ideally suited for the building of a golf course. I am happy that we have one of the world's great links here".
Website: www.traleegolfclub.com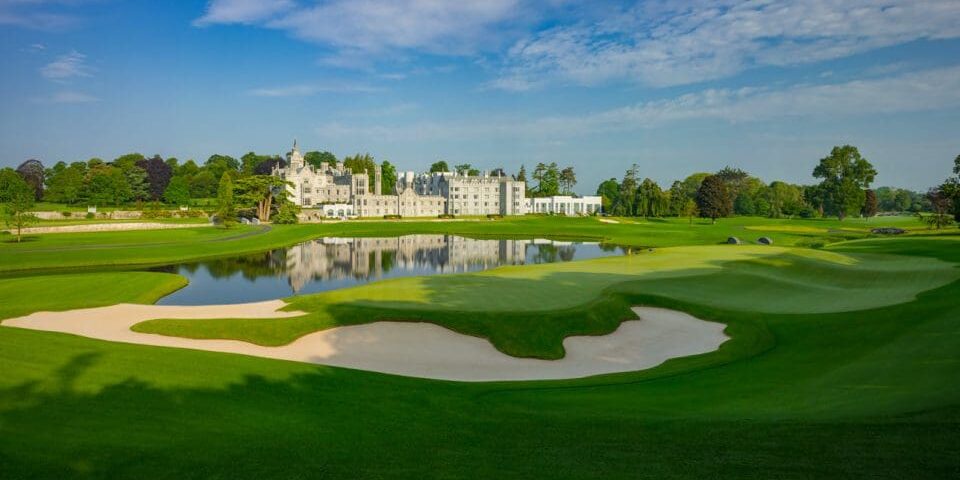 Founded: 1995
Designer: Robert Trent Jones, Sr., Tom Fazio
Championship Length: 7,453
PAR: 72
Type: Parkland
JP McManus, an Irish billionaire who desired to give Limerick a course to be proud of, bought Adare Manor. He hired Tom Fazio, who consults Augusta National and Pine Valley, closed it down and performed a complete transformation and renovation. Adare is now one of the best conditioned courses in the world. The greens and tees will be some of the most flawless one can play on as they are hand cut daily. Adare will be hosting the Ryder cup in 2026, but it is ready now.
Website: www.adaremanor.com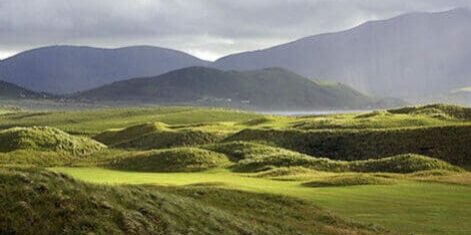 Founded: 1924
Designer: Eddie Hackett, Christy O'Connor
Championship Length: 6,737
PAR: 72
Type: Links
Known locally by its Gaelic name, Ceann Sibéal, Dingle Golf Links sits at the edge of Ireland's dramatic southwest coastline on the Dingle Peninsula. Dingle has a unique microclimate where fescue, the champion of links grasses, has thrived in abundance, making it a bit of a hidden gem. It is a straightforward links course created within the natural landscape and has a meandering burn that traverses throughout.
Website: www.dinglelinks.com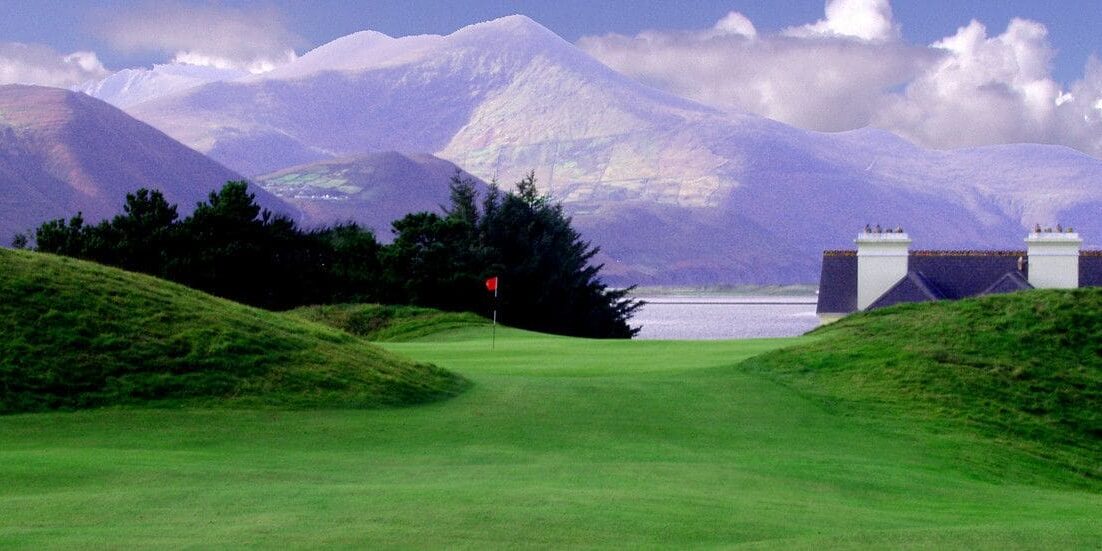 Founded: 1889 (9 holes), 1970 (18 holes)
Designer: Martin Hawtree
Championship Length: 6,511
PAR: 71
Type: Links
The best word to describe Dooks is "mystical". It is located on the southern side of Dingle Bay and has stunning vistas of the MacGillycuddy's Reeks Mountains & coastal peninsulas. Dooks is a classical links course which blends naturally into its environment. It was voted Ireland's Most Scenic Golf Course in 2020 and is one of Ireland's oldest golf courses created in 1889. Only a 9-hole course until 1970, with a tiny budget & guided by Eddie Hacket, the members themselves built & expanded Dooks to 18 holes. Even today, the membership plays an active roll in maintaining the course by gathering for a barbecue & walking the course together repairing divots.
Website: www.dooks.com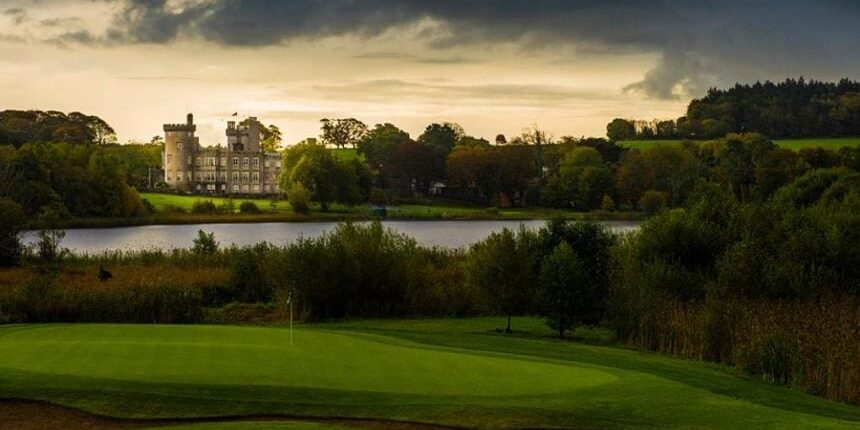 Founded: 1962
Designer: Ron Kirby, Joe Carr
Championship Length: 6,824
PAR: 72
Type: Parkland
One of Europe's most formidable design teams, Ron Kirby and Joe Carr, teamed up to re-design this parkland layout in 2002 and the result is stunning. Kirby and Carr were the driving force behind Old Head, so it's not surprising that drama is very much in evidence here at Dromoland Castle. The course features rolling hills, ancient trees and water hazards and the views throughout are stunning, with Dromoland Lough and Castle as a backdrop. Its signature hole, #7, stands high above a postage stamp sized green with water left and a shamrock bunker to the right. Dromoland also has one of the classiest castle hotels in Europe, dating back to the 16th century. It was once the ancestral seat of the O' Brien's, one of the few native Gaelic Irish families of royal blood.
Website: www.dromolandgolf.com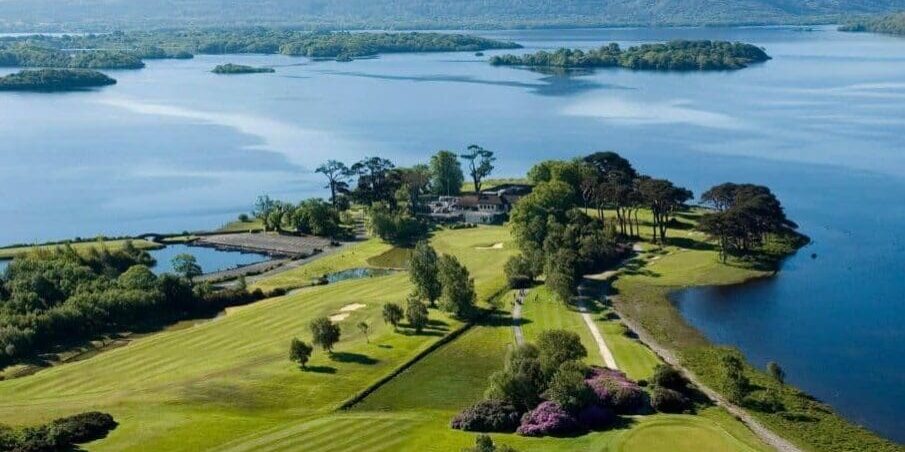 Founded: 1972
Designer: Dr. Billy O'Sullivan
Championship Length: 6,593
PAR: 72
Type: Parkland
Killarney - Killeen is set in its own National Park within the famous Ring of Kerry. The course, set on the banks of Lough Leane, the largest freshwater lake in the southwest, and the backdrop being the majestic Carrauntoohil, the highest mountain in Ireland, create an enchanting setting. David Jones updated the Killeen course ahead of the 1991 Irish Open, which was won by Nick Faldo. The Irish Open returned to the Killarney's Killeen course in 1992 and once again Faldo triumphed. It has also hosted the 2010 and 2011 Irish Open and the Curtis Cup in 1996.
Website: www.killarneygolfclub.ie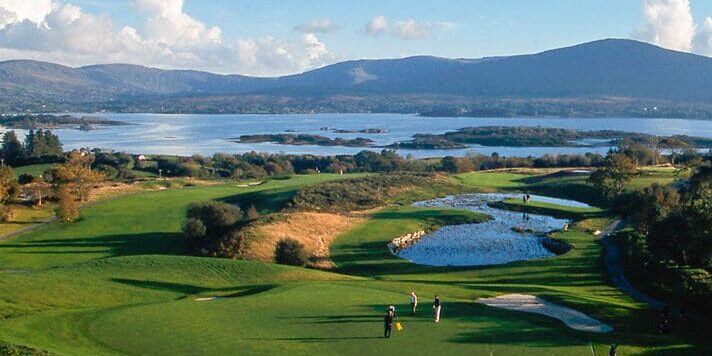 Founded: 1998
Designer: Eddie Hackett, Ron Kirby, Roger Jones, Jonathan Gaunt, Steve Marnoch
Championship Length: 6,693
PAR: 73
Type: Parkland
Ring of Kerry is a relative newcomer to the golfing scene in Southwest Ireland. It is set in a wonderful landscape of lakes and mountains, overlooking Kenmare Bay with the Kerry mountains as a backdrop. Two features combine to make golf at Ring of Kerry so good - exhilarating elevation changes and water which comes into play often adding both definition and danger. The 13th ("An Neidin") and the 14th ("Tahilia") are its two signature holes. #13 is an elevated par 3 with water protecting the front of the green and #14 is a slightly downhill par 4 that doglegs left to a green framed by trees and an enormous bunker in the front.
Website: www.ringofkerrygolf.com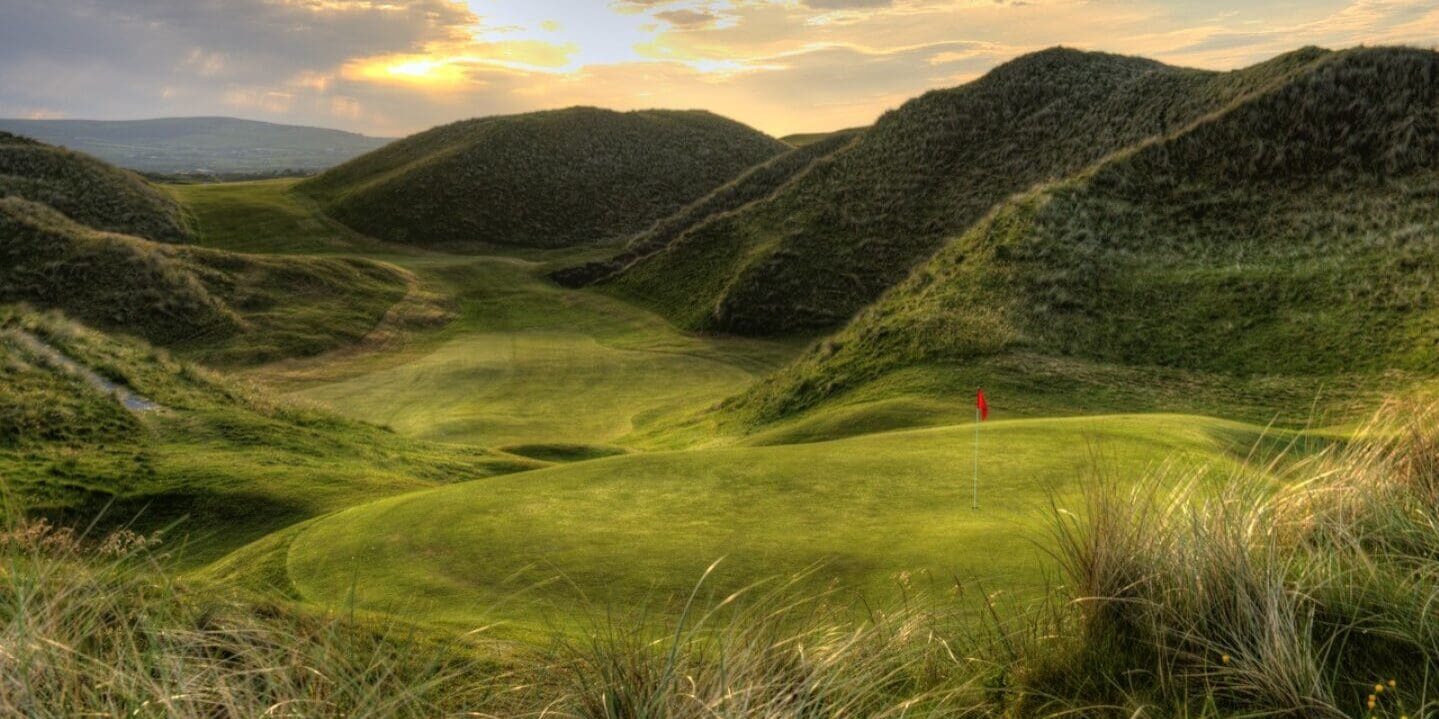 BALLYBUNION – CASHEN COURSE
Founded: 1984
Designer: Robert Trent Jones Sr.
Championship Length: 6,318 yards
PAR: 72
Type: Links
The Cashen Course at Ballybunion is set on the same majestic links land as its elder sister. Upon observing the terrain for the first time, Trent Jones commented that this was "the finest piece of links land I have ever seen and perhaps the finest piece of links land in the world". With the Atlantic Ocean on one side and the river on the other, the tumbling, undulating, free flowing design is beauty beyond description in words.
Website: www.ballybuniongolfclub.ie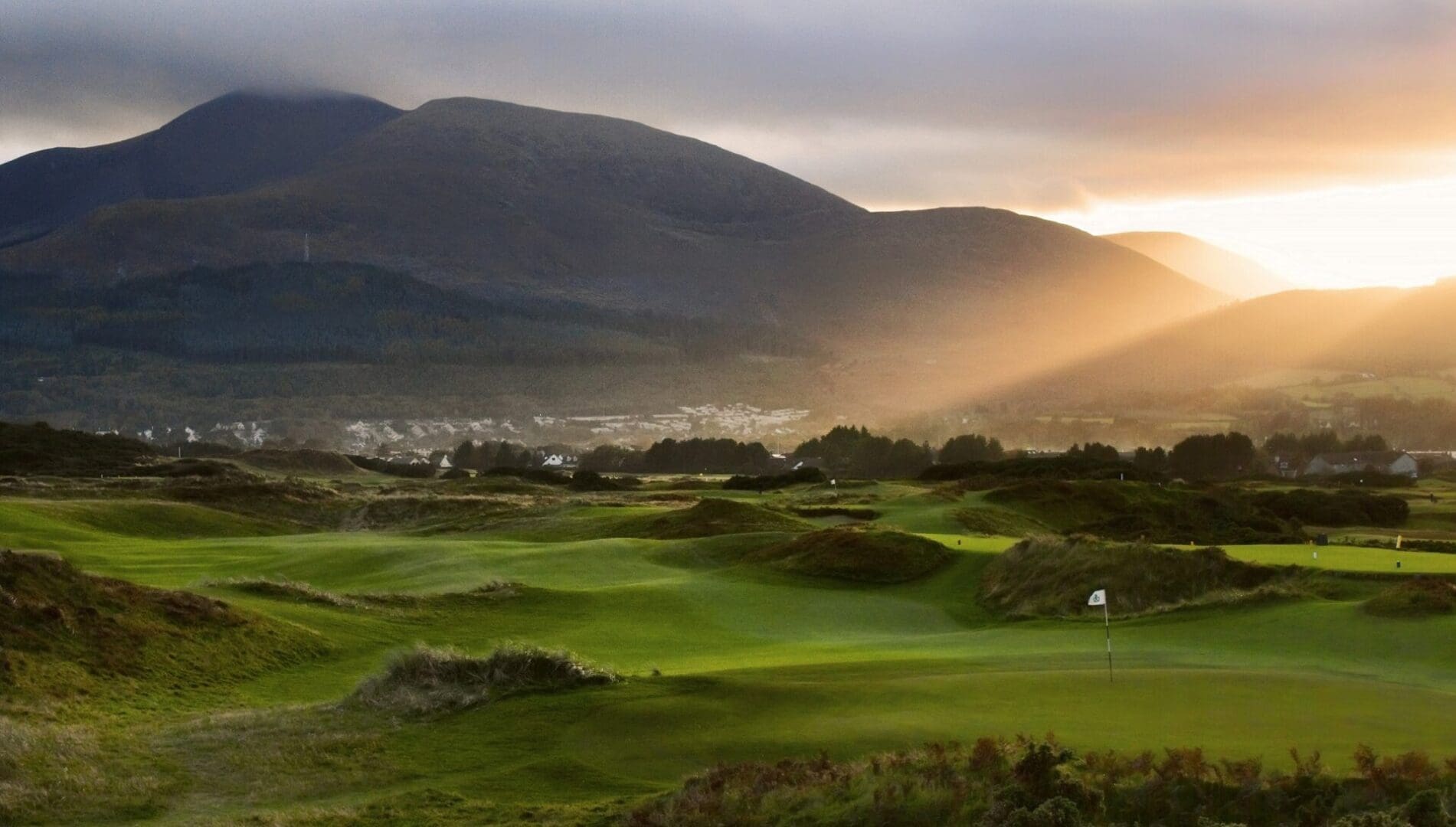 Founded: 1889
Designer: Old Tom Morris
Championship Length: 7,186 yards
PAR: 71
Type: Links
Royal County Down has been consecutively Ranked #1 in the World by Golf Digest in their biannual rankings 3 times. The course is nestled at the foot of the Mourne Mountains, connecting the town to the sea and is one of the most whimsical and natural settings for links golf. Royal County Down boasts a variety of foliage outside the short grass which delivers contrast and color throughout the year. Blind tee shots exist throughout the course and are often marked with a painted stone or a towering target to give players an indication of the safest line to take. The ninth hole is one of the most photographed holes in the world. A 486 yard par 4, it is played from a huge mound down to a fairway some 60 ft below and 260 yards from the tee with the dramatic mountains and spires of the famous Slieve Donard Hotel as the backdrop.
Website: www.royalcountydown.org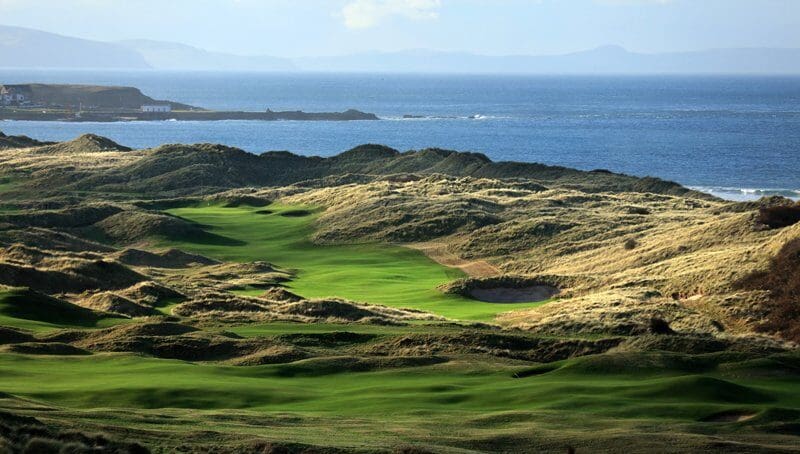 Founded: 1888
Designer: Harry Colt
Championship Length: 7,344 yards
PAR: 71
Type: Links
Ranked #8 in the world, Portrush hosted the 2019 Open Championship and has been a 4-time host of Irish Open. The Open Championship will return to Portrush in 2025. The small greens are considered some of the best putting surfaces in the world, protected by natural grassy hummocks instead of bunkers. It is advisable to avoid "Big Nellie" on the 7th, one of the biggest bunkers in Ireland. Rich in history, Portrush was the venue for the first professional golf tournament in Ireland. The course has striking views of The White Rocks, the limestone cliffs that lead up to its namesake, Dunluce Castle, which overlooks the course.
Website: https://www.royalportrushgolfclub.com/our-courses/dunluce-links/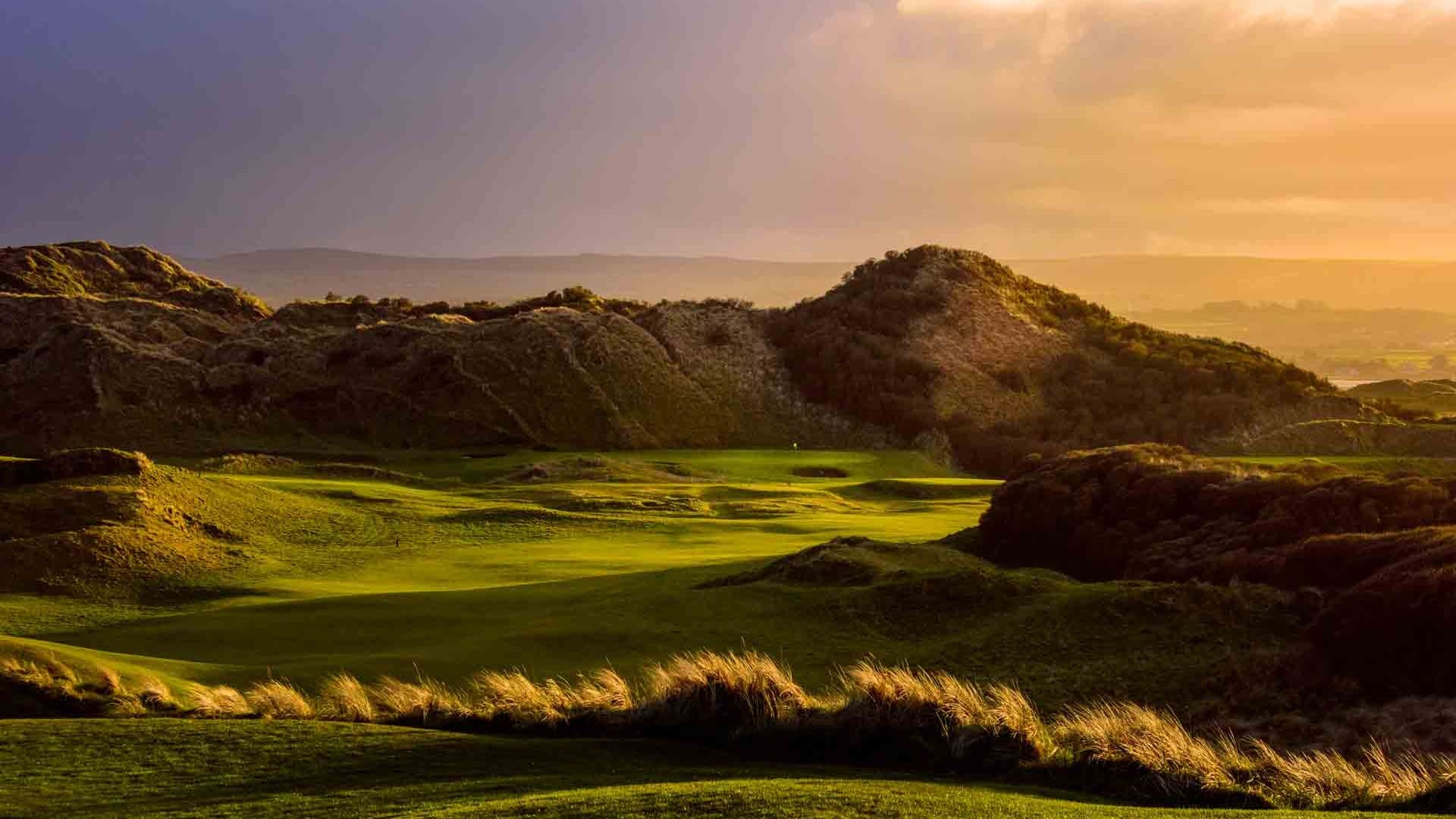 Founded: 1894
Designer: Willie Park Jr & Des Giffin
Championship Length: 7,118 yards
PAR: 72
Type: Links
Portstewart Strand Course was ranked #96 in Golf Digest's 2020 World's Top 100 and hosted the 2017 Irish Open. It sits among imposing, gigantic sand dunes with panoramic views across the Atlantic. Portstewart is known as having one of the best front nines in golf, with its #1 considered one of the best opening holes in golf. Both stunning and intimidating, the hole itself is a tight, sweeping downhill where it doglegs right around a forest of gorse.
Website: https://www.portstewartgc.co.uk/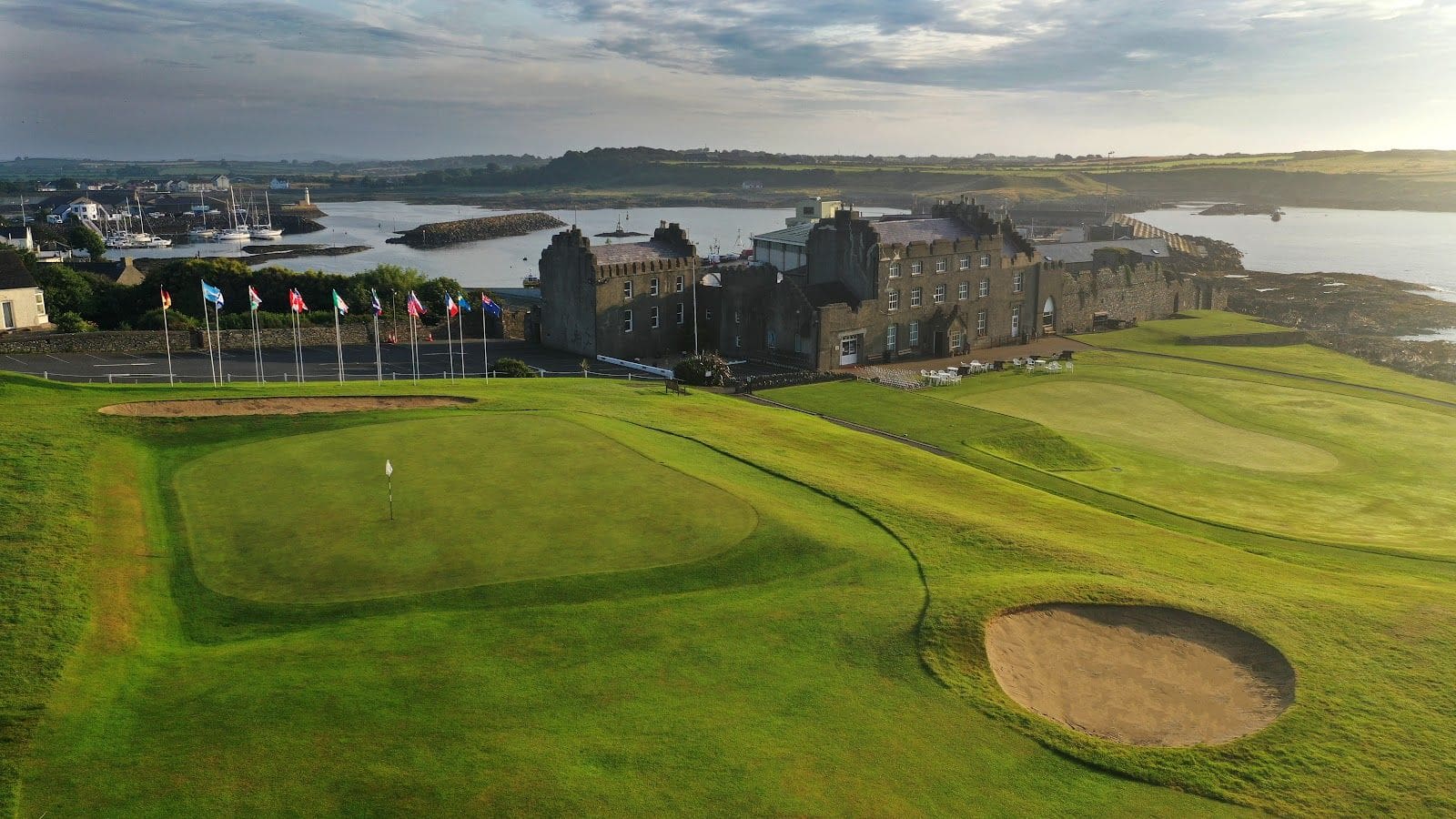 Founded: 1896
Designer: Rev. Thomas MacAfee
Championship Length: 6,268 yards
PAR: 70
Type: Links
One of the most spectacular courses on the coast of Ireland, all 18 tees and greens have intoxicating views of the Irish Sea. The memorable opening 5 holes spectacularly wind along the clifftops. The signature second hole is a 167 yard Par-3 called Howd's Hole. The tee shot is played over a rock-filled inlet with water to your left onto a small, distant-looking green. The clubhouse is also remarkable in that it is a 14th Century castle making it the oldest clubhouse in the world.
Website: https://www.ardglassgolfclub.com/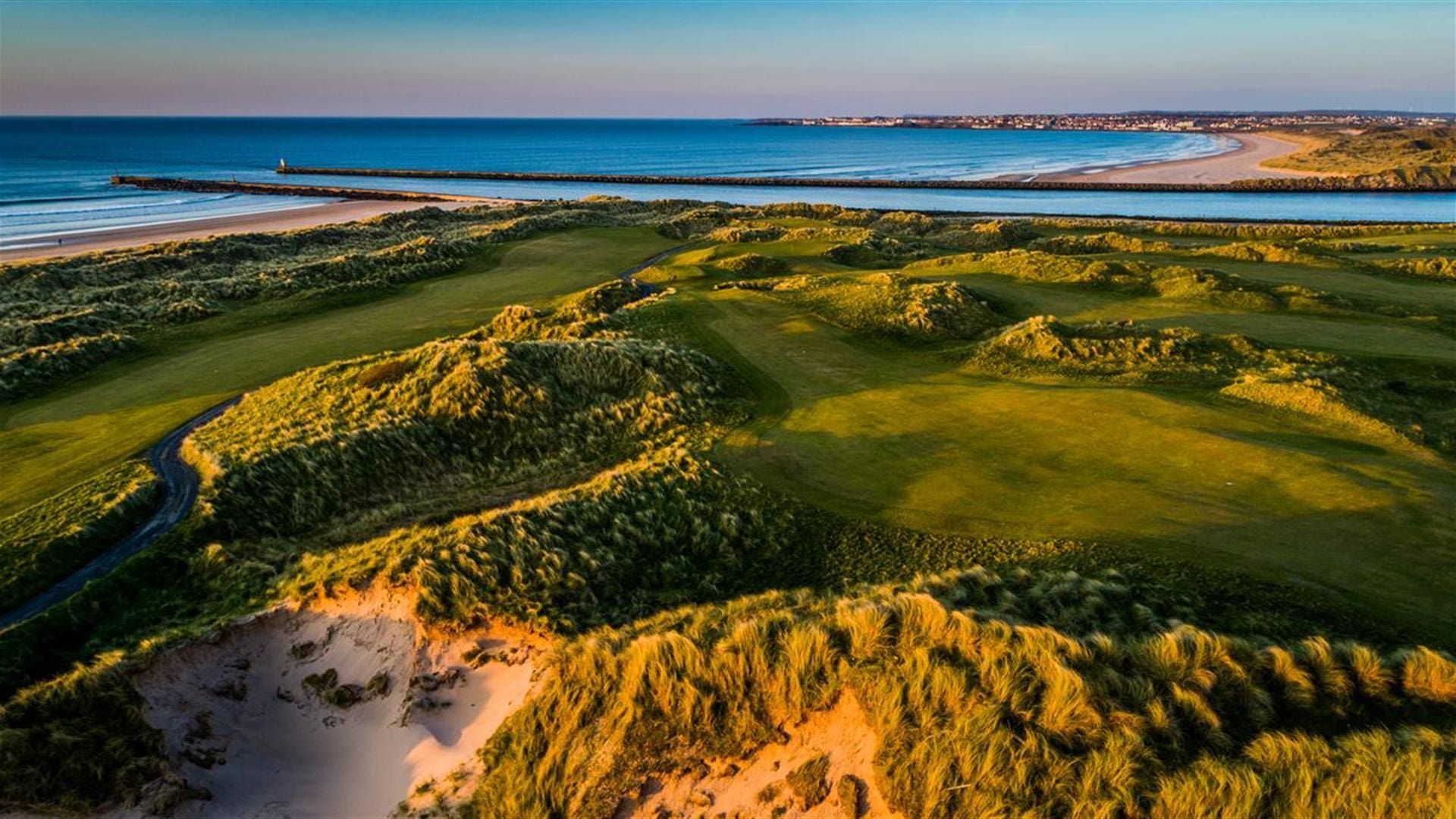 Founded: 1901
Designer: Ben Sayers, renovated in 2017 by Martin Hawtree
Championship Length: 6,805 yards
PAR: 73
Type: Links
Castlerock, a natural, authentic links course, lies between the railway, the river Bann and the Atlantic Ocean. The has a delightful, wandering route through the dunes as the holes twist, turn and intermingle with each other. Its best known hole is the 4th, a 200-yd par 3 played to a raised green with the railway running the full length of the hole and a meandering burn running diagonally. Situated on the Causeway coast and only a 20-minute drive from both Royal Portrush Golf Club and Portstewart Golf Club, Castlerock is a more than worthy neighbor to these great Irish links.
Website: https://www.castlerockgc.co.uk/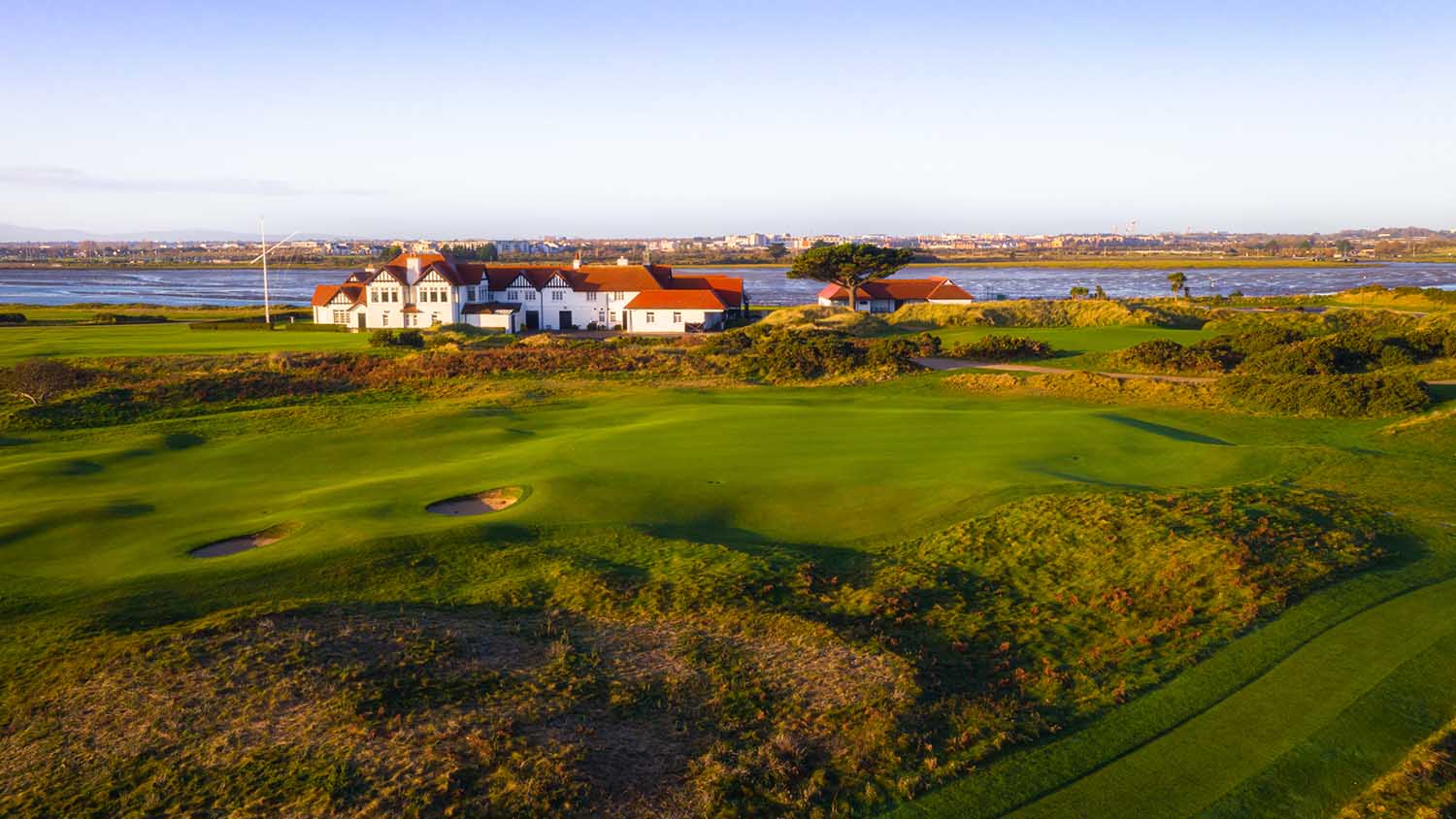 Founded: 1894
Designer: Fred Hawtree, W.C. Pickermann
Championship Length: 7,322
PAR: 72
Type: Links
Ranked #62 in the world and host to the Irish Open 19 times, Portmarnock sits on its own peninsula surrounded on 3 sides by water.  The land was owned by the famous distiller, John Jameson. From about 1850, he used it as his own private links course. Considered "easy walking but hard golfing", there is nothing man-made about Portmarnock so it is a fair test of links golf. Tom Watson said of Portmarnock, "There are no tricks or nasty surprises, only an honest, albeit searching test of shot making skills."
Website: https://www.portmarnockgolfclub.ie/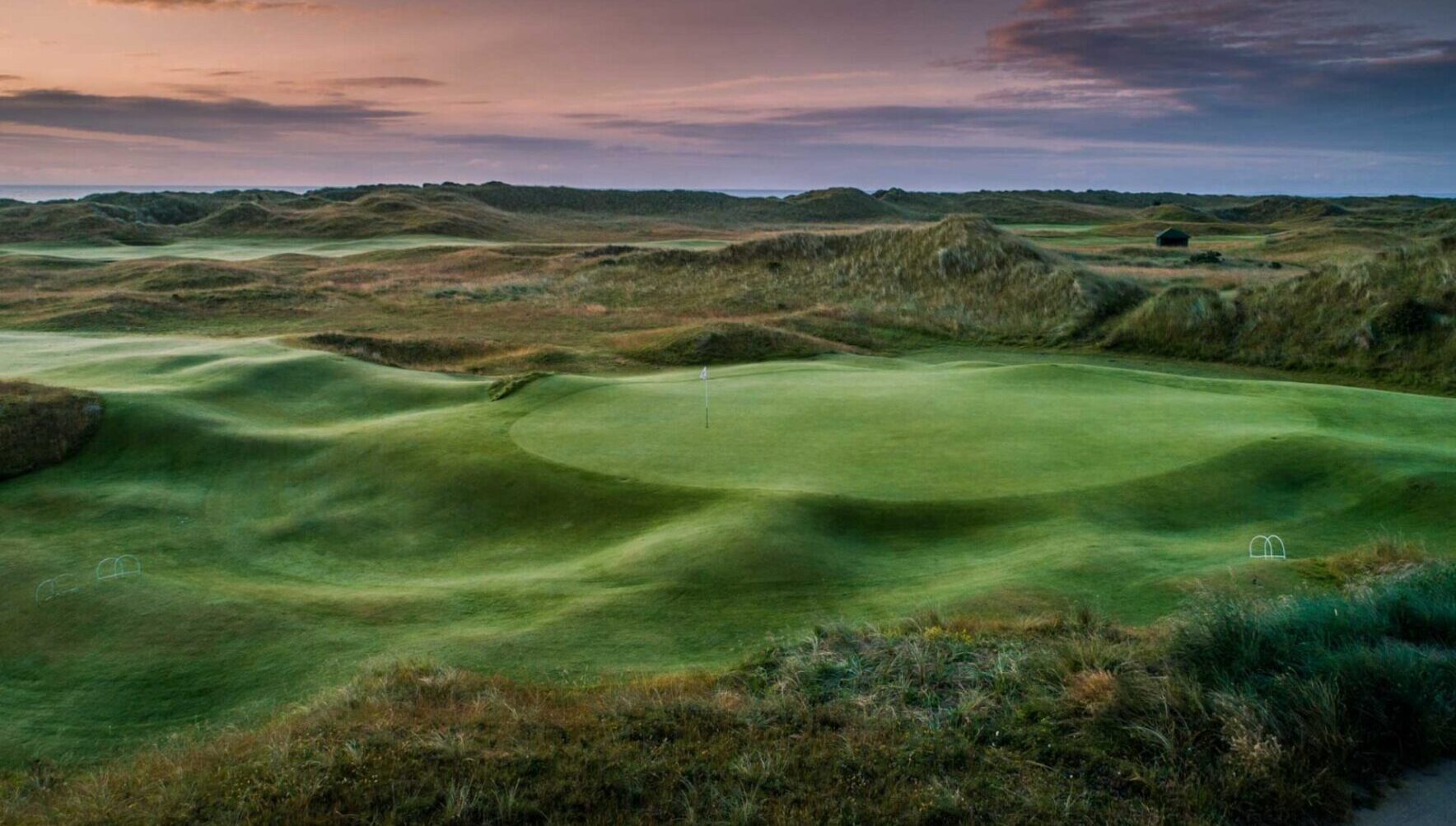 Founded: 1892
Designer: Tom Simpson, Donald Steel, Tom McKenzie
Championship Length: 7,031 yards
PAR: 72
Type: Links
Founded in 1892, Golf World magazine writes, "County Louth is one of the best kept secrets of Irish golf... this has to be one of the most enjoyable Links in Ireland... There is not a weak hole on the course". There is much variety among the holes, the ones running along the sea the most splendid. Baltray has twice hosted the Irish Open.
Website: countylouthgolfclub.com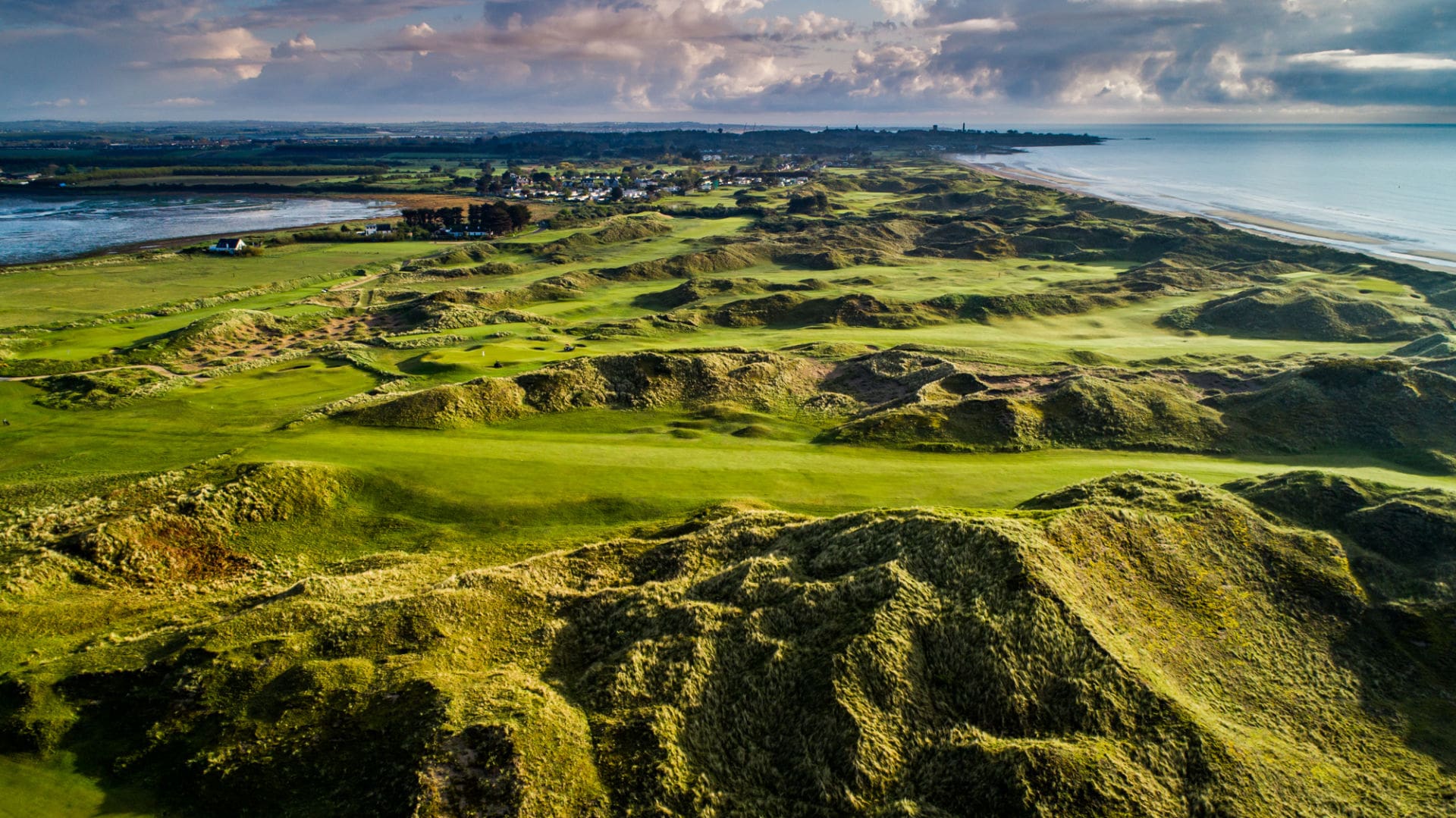 Founded: 1890
Designer: Fred Hawtree, Eddie Hackett, Jeff Howes, Martin Hawtree
Championship Length: 6,312
PAR: 71
Type: Links
The Island Golf Club enjoys a unique setting bordered by sea on 3 sides. A classic links course set in a rugged terrain and nestled between the highest sand dunes along the east coast of Ireland, it is only 15 minutes from the Dublin airport. One of the oldest courses in Ireland, the Island Golf Club was ranked 13th in Golf Digest's Top Courses in Ireland in 2015.
Website: www.theislandgolfclub.ie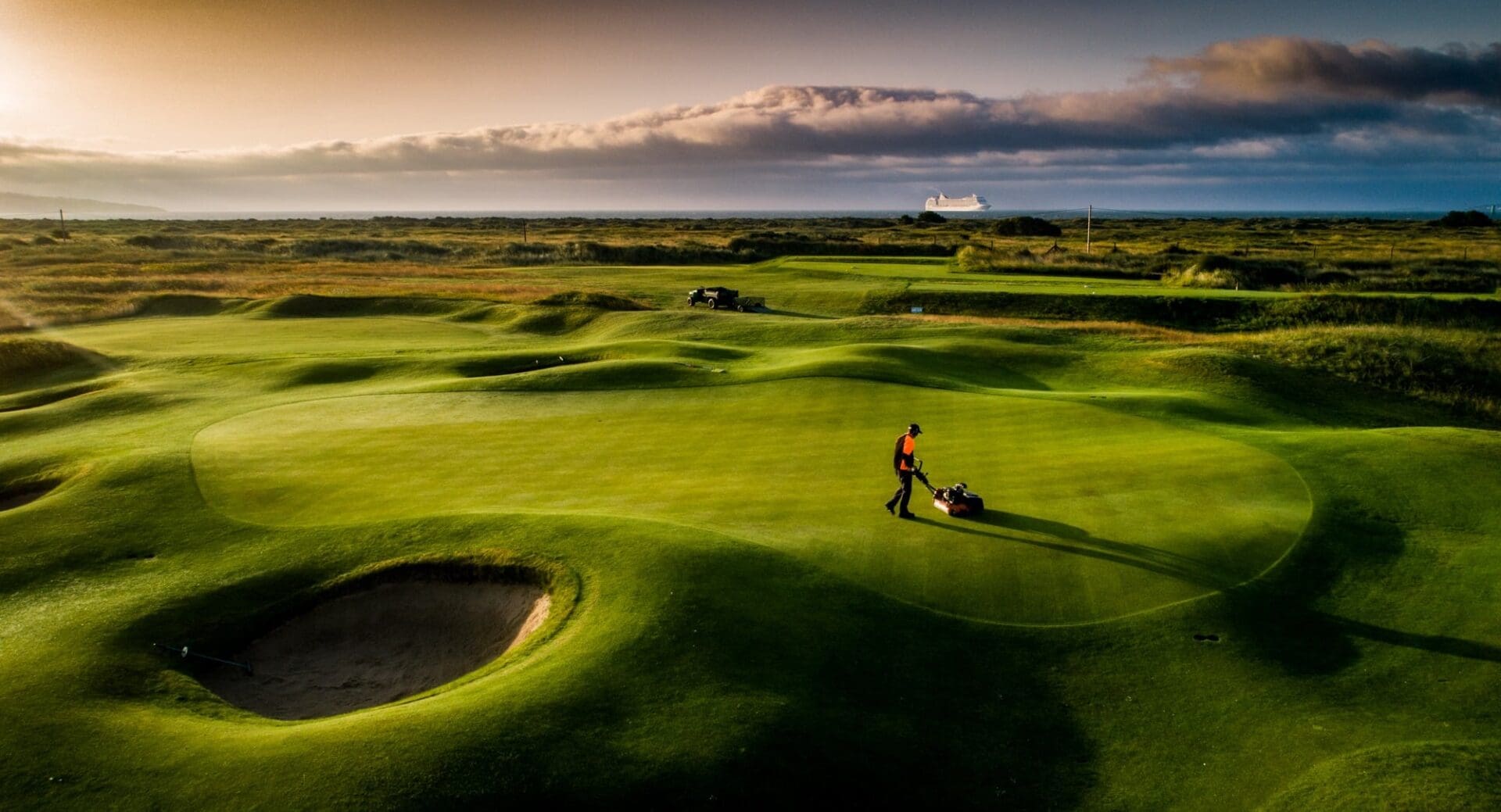 Founded: 1885
Designer: H.S. Colt, Martin Hawtree, Donald Steel, Tom MacKenzie, Martin Ebert
Championship Length: 7,269
PAR: 72
Type: Links
The Royal Dublin Golf Club is steeped in golfing history and presents a stern golfing examination on a truly magnificent links course and is widely accepted as one of the greatest links courses in the world. Host to many Irish championships including the Carrolls Irish Open from 1983-1985, Royal Dublin is both challenging and rewarding, and classic links golf at its best.
Website: www.theroyaldublingolfclub.com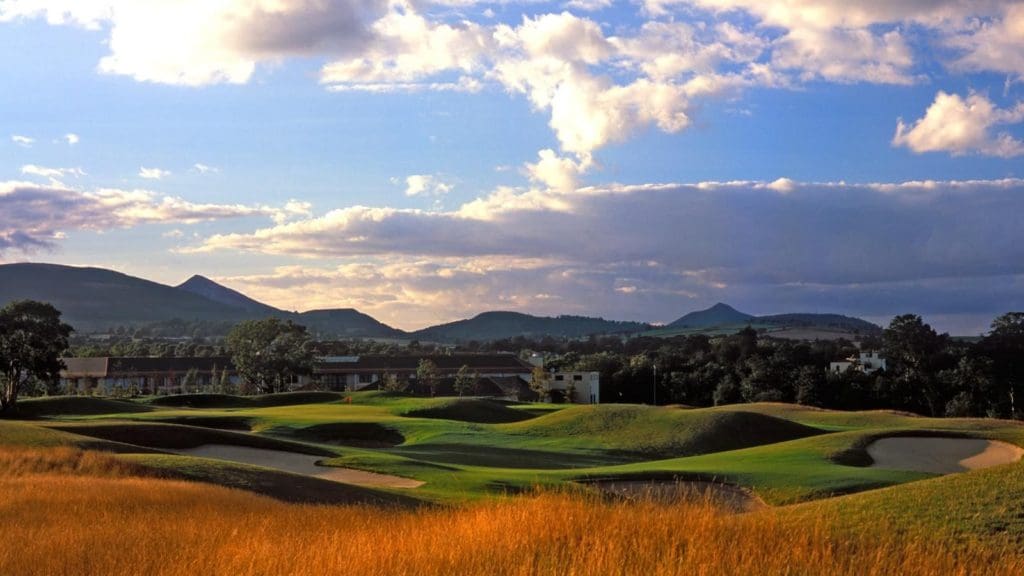 Founded: 1995
Designer: Tom Craddock, Pat Ruddy
Championship Length: 7,046
PAR: 71
Type: Parkland
Enjoy the tranquility of the mystical Druids Glen, with manicured tree-lined fairways, historical landmarks, spectacular water features and vibrant floral displays. Just a year after opening in 1995, Druids Glen hosted the Irish Open for four years in a row. Druids Glen and its sister course, Druids Heath, both offer exhilarating landscapes, and are renowned as being amongst the finest, most challenging and most enjoyable courses in Europe.
Website: www.druidsglenresort.com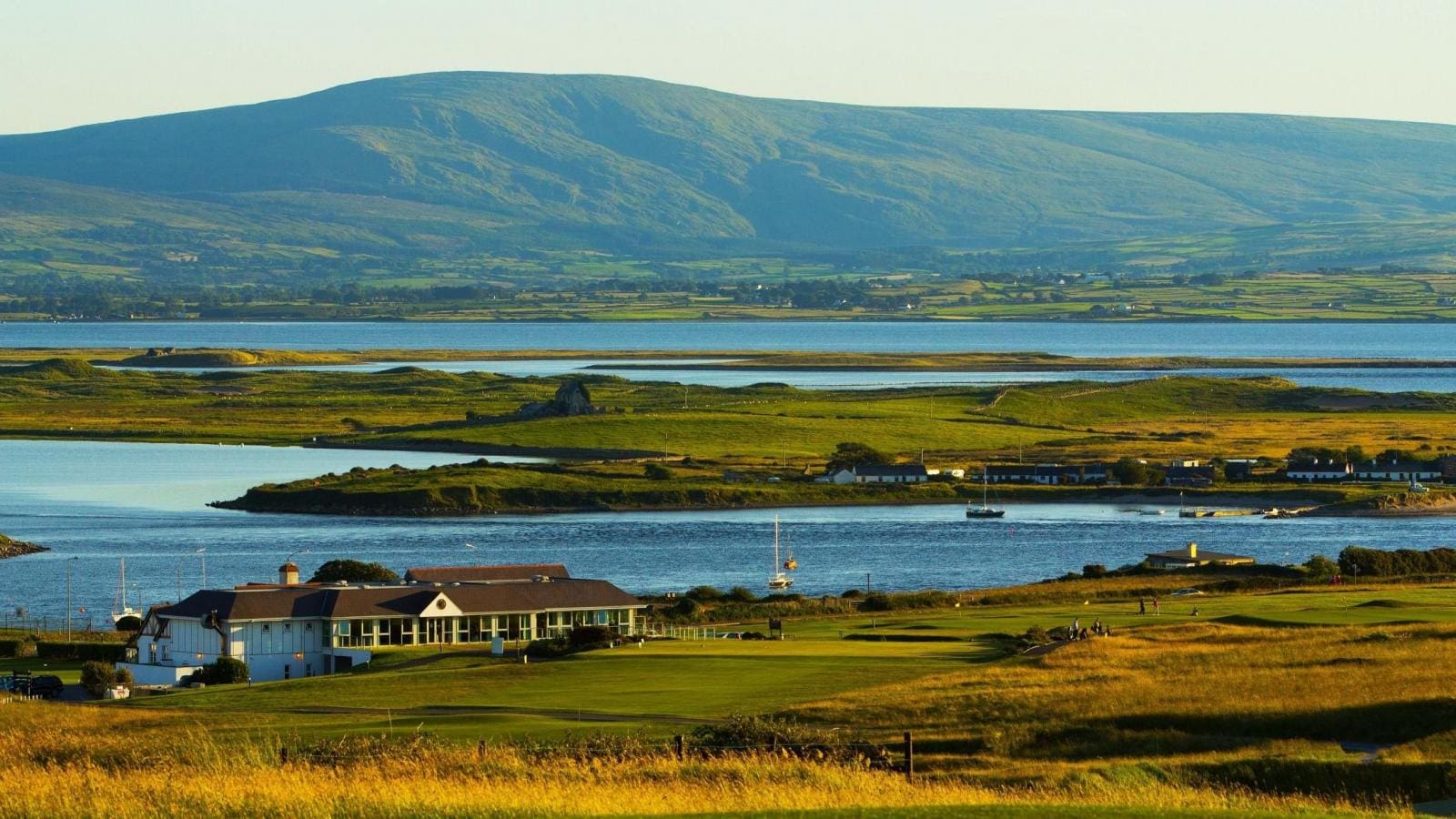 Founded: 1894 (9 holes), 1906 (18 holes)
Designer: Harry Colt (1927)
Championship Length: 7,259
PAR: 71
Type: Links
The original 18 went in a clockwise direction but when Colt redesigned the course in 1927, went with an anticlockwise direction and a change of direction that he admired at the old course in St. Andrews, Prestwick, Lytham and Royal Troon. Known locally as Rosses Point, Sligo is a diverse course with dramatic undulations, raised plateau greens, run-offs, high ground, low ground, cliffs, and challenging bunkering, berns and dunes. The way the course juts out provides panoramic views of Drumcliffe Bay, sandy beaches, the Atlantic Ocean, Sligo's limestone Table Mountain, the Ox Mountains and the Darty Mountains.
Website: https://www.countysligogolfclub.ie/courses/colt-course/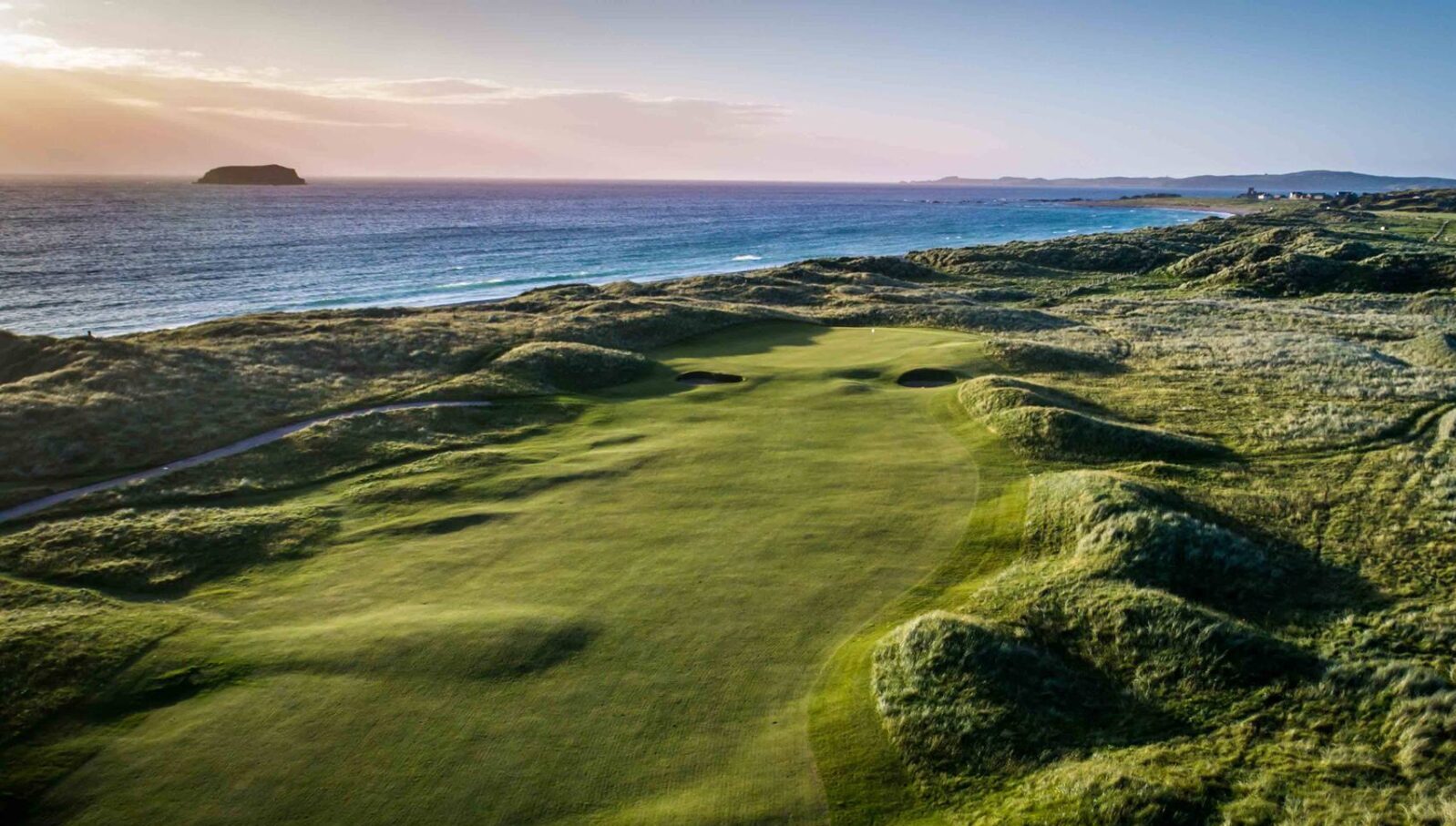 Founded: Original (1947), Glashedy (1995)
Designer: Pat Ruddy & Tom Craddock
Championship Length: 7,542
PAR: 72
Type: Lings
Pat Ruddy, the owner of The European Club and regarded as one of the greatest golf architects of modern times, has created a masterpiece in the Glashedy Course. Nick Faldo upgraded the links in 2005/6. Ballyliffin is Ireland's most northerly golf club, located off Tullagh Point on the Atlantic edge of the Inishowen Peninsula. Ballyliffin is often described as "the Ballybunion of the North" or "the Dornoch of Ireland" because it is set amidst towering natural sand dunes. Glashedy was also host to the 2018 Irish Open.
Website: https://www.ballyliffingolfclub.com/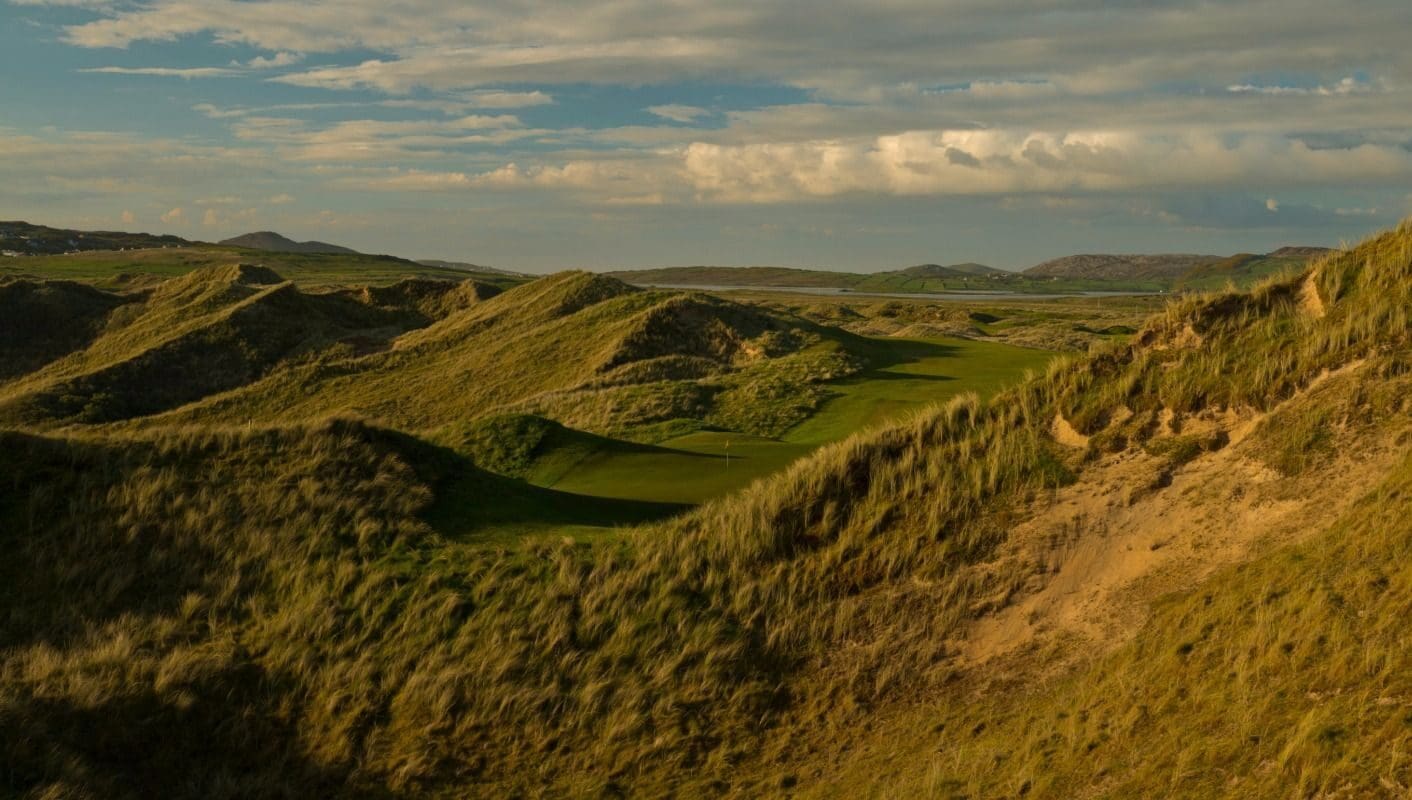 Founded: 2003
Designer: Pat Ruddy
Championship Length: 7,183
PAR: 72
Type: Links
Sandy Hills Links opened for play in 2003 and has matured into one of Ireland's finest modern links courses. Old Tom chose to route the Old course alongside the dunes, but Pat Ruddy had different ideas – he decided to carve straight through them. Each and every hole has precise definition with the hummocking fairways framed by the dunes, so the immense challenge is always clearly visible from the tees. Golf Digest Ireland writes, "A stunning modern links that funnels its way through centuries-old dunes created by and still whipped by the winds coming in off of the Atlantic".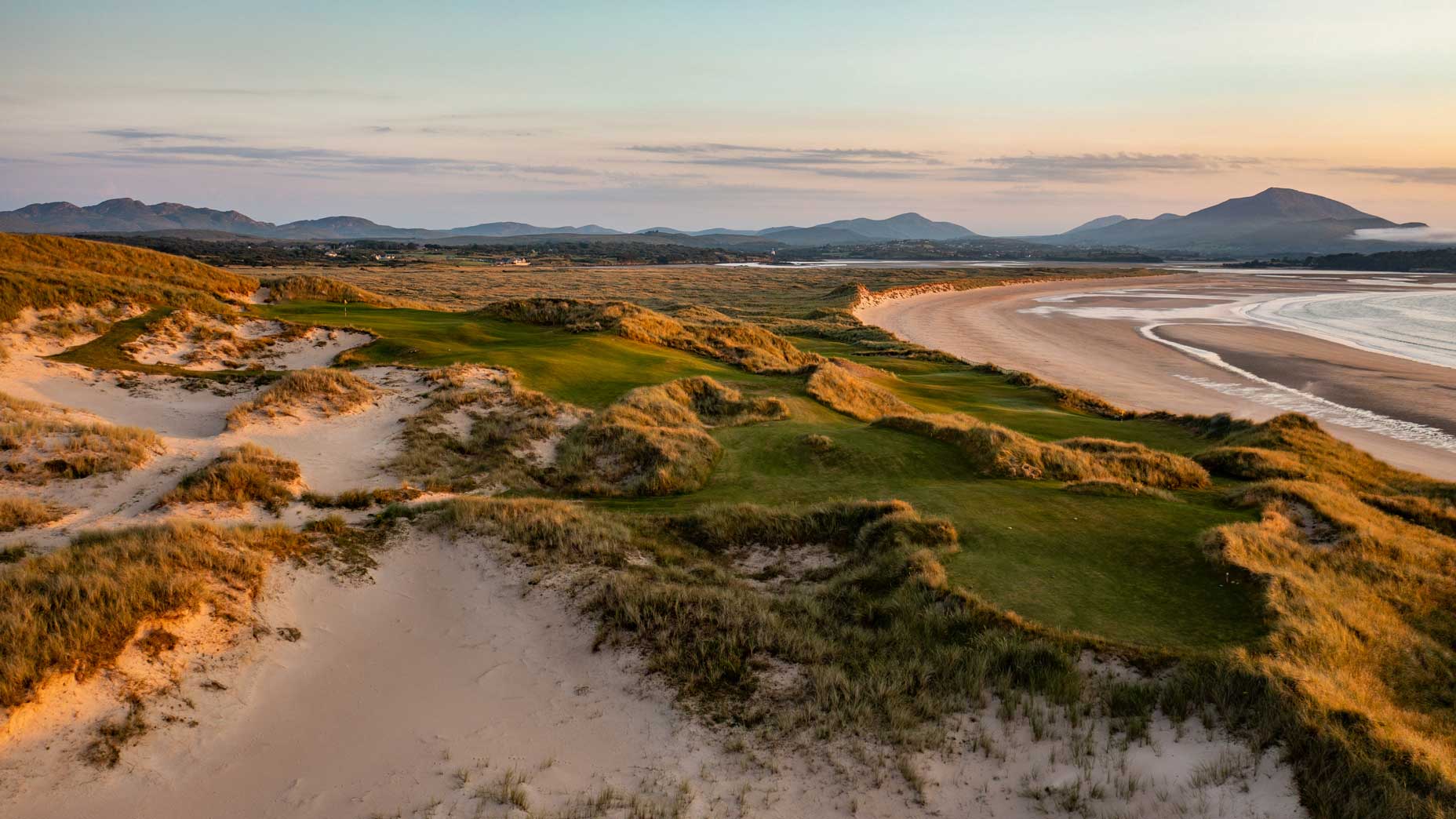 ROSAPENNA - ST. PATRICK'S
Founded: 2021
Designer: Tom Doak
Championship Length: 6,930
PAR: 71
Type: Links
Rosapenna St. Patrick's is Ireland's newest course; it opened for public play in June of 2021. Golf World Top 100 Courses and Resorts editor Chris Bertram was one of the first in the world to play this course. In his review, he states, "This is a World Top 100 course in waiting, and an absolute certainty to come into our 2022 ranking of the finest courses you can play on this planet. It's that good." St Patrick's Links has debuted as the highest new entry at #55 on the GOLF Magazine Top 100 in the World rankings 2021-22 alongside only three other courses in Ireland; Ballybunion, Lahinch & Portmarnock
Website: https://www.rosapenna.ie/st-patricks-links-by-tom-doak-2021.html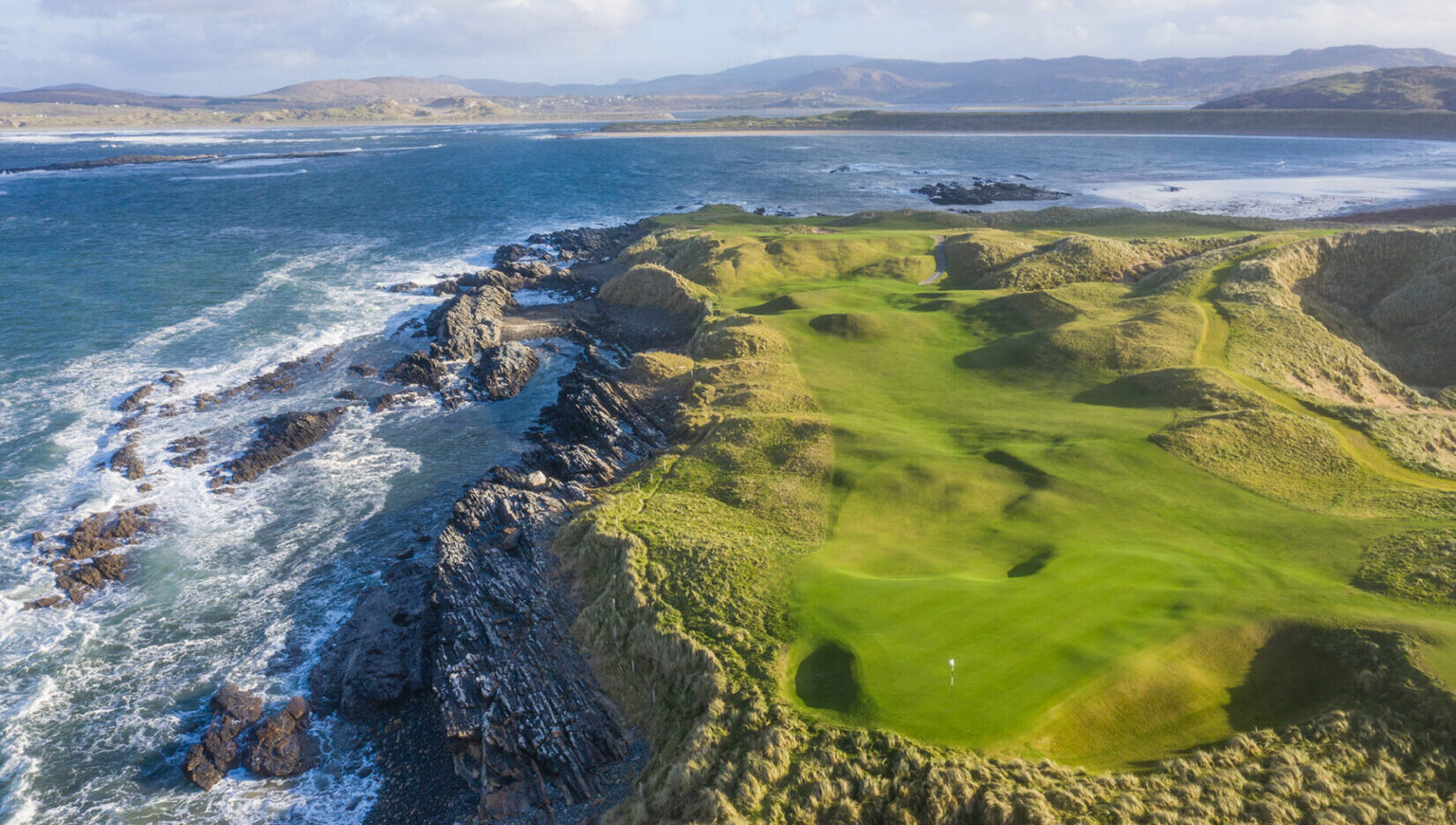 Founded: 1905
Designer: Gil Hanse & Jim Wagner
Championship Length: 6,269
PAR: 73
Type: Links
Narin & Portnoo is a simple, old-fashioned, unpretentious links tucked away in the southwest corner of County Donegal. Golf has been played here since the early twentieth century but recent work by acclaimed architect Gil Hanse and his associate Jim Wagner has elevated the course to something really very special. Narin and Portnoo deserves to be bracketed with one or two other natural, unspoilt courses that really should be given greater recognition. It's a fun course which won't beat you up from the tee.
Website: https://narinandportnoolinks.com/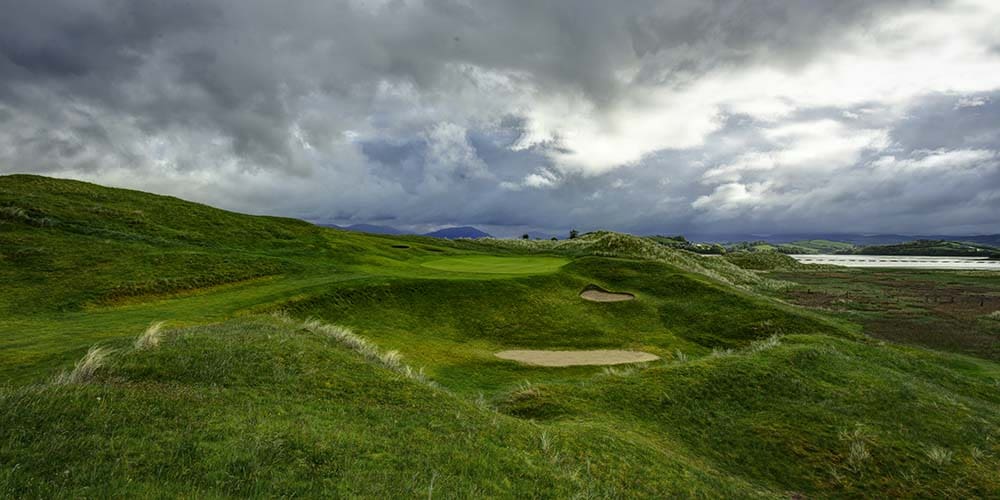 Founded: 1960
Designer: Eddie Hacket (1973), Pat Ruddy (1992)
Championship Length: 7,450
PAR: 73
Type: Links
The Murvagh peninsula jutting out into Donegal Bay is the home of Donegal Golf Club and is one of the longest golf courses in Europe. The panoramic view across the bay is sensational, with the Bluestack Mountains providing a dramatic backdrop. It is considered one of Eddie Hacket's finest creations, taking a naturally rugged and crumpled links land and producing a monster championship course. One of its signature holes is the 185-yard par three 5th. This one shot hole, called "Valley of Tears", is a brute with a semi-blind tee shot over a valley to a raised, narrow, plateau green surrounded by bunkers.
Website: https://www.donegalgolfclub.ie/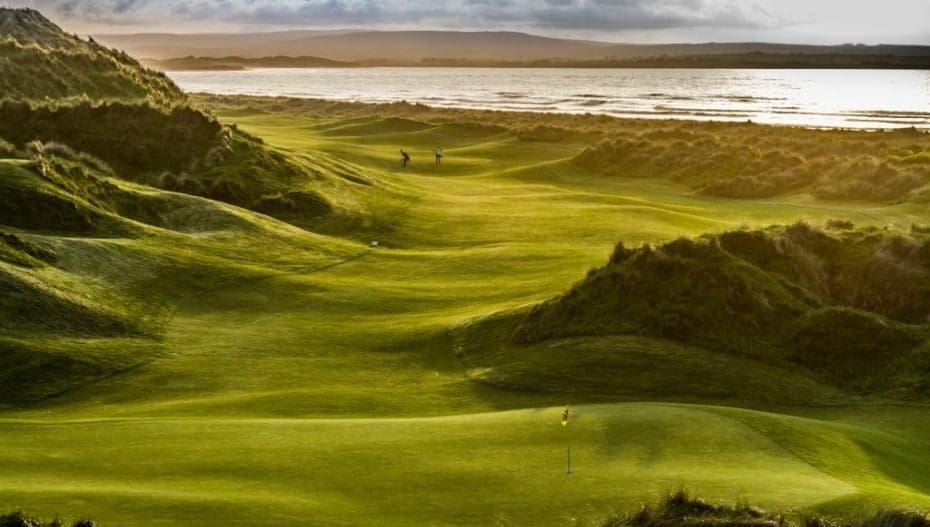 Founded: 1918 (9 holes), 1974 (18 holes)
Designer: Eddie Hacket (1974), Donald Steel (27 holes)
Championship Length: 7033
PAR: 73
Type: Links
Starting out in 1918 as a modest nine hole course, Eddie Hackett put Enniscrone on the map in 1974 when he extended it to 18 holes. Then, Donald Steel further extended the configuration to 27 holes by using new land and adjoining dunes. The main course, appropriately called "Dunes", plots its way through the gigantic sandhills and across the folded rippled links land. The fairways pitch and roll between towering shaggy dunes. Greens are raised on plateaux and protected by deep valleys and ravines, whilst others nestle at the feet of high dunes. There are elevated tee shots and stunning panoramic ocean views.
Website: https://www.enniscronegolf.com/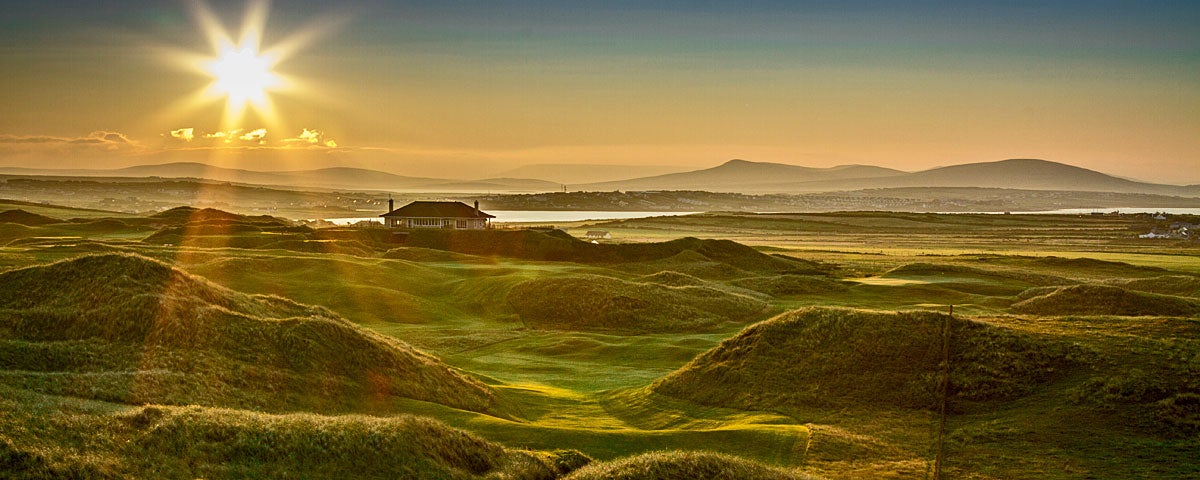 Founded: 1993
Designer: Eddie Hacket
Championship Length: 6132
PAR: 72
Type: Links
Carne hosted the 54-hole Irish PGA Championship in August 2021. Tom Coyne, author of A Course Called Ireland, said of Carne, "... I might never write a more true sentence than this: Carne is absolutely brilliant. Front nine, back nine, every hole, every hill, every inch of the place is simply special." Carne lies on the remote and rugged Mullet Peninsula, along the Wild Atlantic Way, an area renowned for its wild and ancient landscape. This 6,700-yard links is not a simple out and back affair. Each nine wends its way back to the clubhouse – the holes snake up and down through the dunes in all directions. Eddie Hackett himself said of Carne, "ultimately there will be no better links course in the country, or, I doubt, anywhere."
Website: http://www.carnegolflinks.com/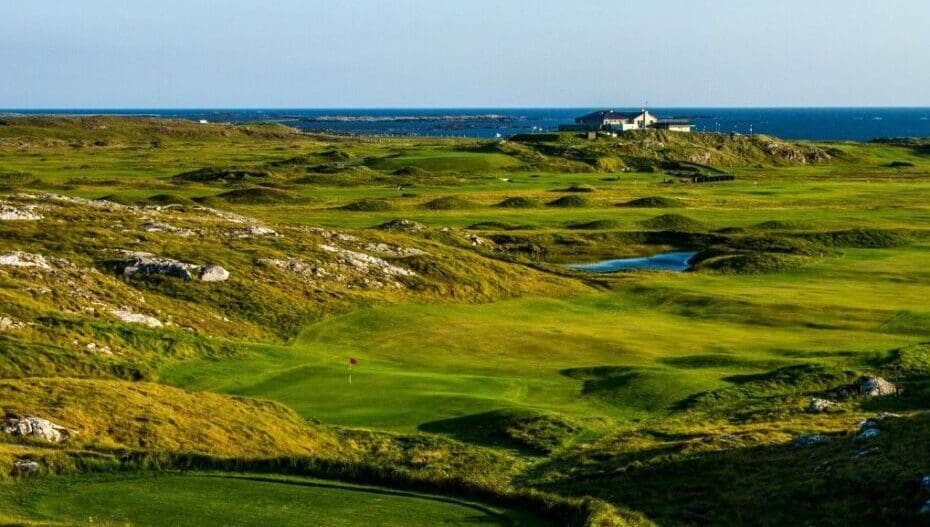 Founded: 1973
Designer: Eddie Hacket
Championship Length: 7055
PAR: 75
Type: Links
Connemara's landscape has something special on every hole... views of Slyne Head Lighthouse, the 12 Ben Mountains, the Atlantic Ocean or Grainne O'Malleys Castle. Celebrating its 50th anniversary in 2023, the club offers fantastic facilities with a modern clubhouse bar, coffee shop and restaurant, a proshop, practise range and putting green. The course is littered with stern and craggy rocks and, with no sand dunes, the wind is a significant factor. Brace yourself for the challenging 210-yard par three 13th, with its raised green. It's regarded as Connemara's signature hole and this is where the lunar landscape kicks in and stays with us for the closing holes.
Website: http://www.connemaragolflinks.com/